Dumpster Rental in Baltimore: Recommended & Reliable Service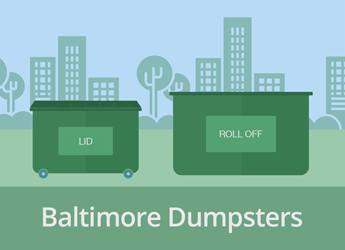 Getting a reliable dumpster rental in Baltimore is easier than ever before. Whether you are a business or resident, or even if you are working on a project that requires more waste removal than your standard curbside program can handle – such as a renovation or major home cleaning – you should consider renting a dumpster. Renting a dumpster for an allotted period of time will make your life exponentially easier in the long and short term. The dumpster company handles all drop-offs and pickups, freeing up your time and saving you the stress of figuring out how to dispose of your waste in accordance with waste regulations.
As with any other service transaction, it is vital you find an upstanding and honest Baltimore dumpster rental company. Disposing of waste in the wrong locations is illegal and can lead to fees and criminal charges, as well as felony charges. Additionally, working with a less than reputable dumpster company can cost you thousands of dollars in repairs to your property, landfill charges, and other hidden fees. To find a reputable company, first ask around to see if your friends or family know a hauler they would recommend – it is always best to hear first-hand the experience of the company you intend to use.
After selecting a company, speak with a representative to decide on the dumpster that best fits your needs. Be sure to be as specific as you can, but do not worry if you don't have all of your waste information – that is what the representatives are there to help with! Be prepared to apply for a dumpster permit, if one is required in your area, and be sure to fully understand the terms and conditions of the rental before agreeing to it. You should get full information on and have a clear understanding of the rental period, pickup and drop-off times, maximum weight, and overage fees. Make sure you are also aware of what materials can and cannot be placed in the dumpster, which materials are recyclable, and which materials are hazardous (if applicable to your situation).
Dumpster Prices in Baltimore, MD
Roll-off dumpsters are the most popular type of dumpster rental in Baltimore. If you are looking to rent a roll-off dumpster, the following information will be useful. Displayed below are recent estimates provided to customers in Baltimore for 10 Yard, 15 Yard, 20 Yard, 30 Yard and 40 Yard roll-off dumpsters.
If you would like to get an idea of pricing for smaller dumpsters, such as those with lids, it is best to speak directly to several rear-loading or front-loading dumpster providers in your area, as rentals and rates for these smaller dumpsters are usually a lot more bespoke.
Dimensions (L x W x H) :  approx.  12′ x 8′ x 4′
Suitable for:
Seasonal cleanouts, small bathroom or kitchen renovations, garage cleanouts
---
Quote A
Rental Duration:  10 days
Weight Limit:  2,000 lbs
Price:  $269*
---
Quote B
Rental Duration:  10 days
Weight Limit:  2,000 lbs
Price:  $295**
Dimensions (L x W x H) :  approx.  16′ x 8′ x 4.5′
Suitable for:
Small kitchen or bathroom renovations, seasonal cleanouts, yard debris
---
Quote A
Rental Duration:  10 days
Weight Limit:  4,000 lbs
Price:  $329*
---
Quote B
Rental Duration:  10 days
Weight Limit:  4,000 lbs
Price:  $345**
Dimensions (L x W x H) :  approx.  22′ x 8′ x 4.5′
Suitable for:
Large scale basement cleanouts, office clear outs, construction and demolition debris for multiple room remodels
---
Quote A
Rental Duration:  10 days
Weight Limit:  6,000 lbs
Price:  $379*
---
Quote B
Rental Duration:  10 days
Weight Limit:  6,000 lbs
Price:  $395**
Dimensions (L x W x H) :  approx.  22′ x 8′ x 6′
Suitable for:
Real estate cleanouts, large scale construction and demolition debris
---
Quote A
Rental Duration:  10 days
Weight Limit:  8,000 lbs
Price:  $439*
---
Quote B
Rental Duration:  10 days
Weight Limit:  8,000 lbs
Price:  $445**
Dimensions (L x W x H) :  approx.  22′ x 8′ x 8′
Suitable for:
Large residential projects, large industrial and commercial cleanups
---
Quote A
Rental Duration:  10 days
Weight Limit:  10,000 lbs
Price:  $439*
---
Quote B
Rental Duration:  10 days
Weight Limit:  10,000 lbs
Price:  $495**
* Price includes rental period, delivery fee, pickup fee, and applicable taxes
** $80.00/ton of additional weight
Dumpster Alternative
If you would like to discard of some of your trash items yourself, there are three facilities in Baltimore designated for residents to drop off their garbage and recyclables. These are:
Eastern Sanitary Landfill Solid Waste Management Facility
6259 Days Cove Road
White Marsh, MD 21162
Opening Hours: Mon-Sat 07:30 – 15:30
(Residents must be finished unloading by 15:30 at this facility)
Central Acceptance Facility
201 West Warren Road
Cockeysville, MD 21030
Opening Hours: Mon-Sat 07:00 – 16:00
Western Acceptance Facility
3310 Transway Road
Halethorpe, MD 21227
Opening Hours: Mon-Sat 07:00 – 16:00
All three facilities can be reached at (410) 887-2000. As of May 2012, however, the only landfill available to accept more trash was the one in White Marsh and it was fifty-one percent full.
Residents of Baltimore County will be able to drop off their trash at the facility free of charge with a proof of residency, but there are some situations in which a refuse disposal authorization must be obtained in advance. These situations include a resident:
Using a vehicle other than a car, van, or standard pickup truck
Having a relative or friend that will haul the waste on behalf of the resident at no cost to the resident
Wishing to deliver waste that could be construed as commercial
Intending to deliver more than two loads in any size vehicle within a week or more than six loads in one calendar year
Looking to deliver an item that is "Restricted Waste"
Using a commercially marked vehicle.
To obtain refuse disposal authorization, visit Baltimore County or call (410) 887-2000 at least fourteen business days before you wish to discard your items.
Items accepted at the landfills include all municipal solid waste (MSW), otherwise known as trash or garbage. MSW is any non-liquid waste from households, businesses, and institutions. It includes everyday items we use and then throw away such as food scraps, containers, plastic wrappings, furniture, tires, paper, and so on – essentially, any item that has been broken and/or is no longer wanted, and food that has spoiled. In the United States, over two hundred million tons of MSW is produced each year, twenty-five million tons of which is food.
Handling Hazardous Items
If your household waste items contains hazardous material then you will have no option but to dispose of these materials yourself as they cannot be discarded using a Baltimore dumpster rental service.
Household hazardous waste (HHW) can be disposed of at the specified containment facility anytime from April through October:
Northwest Citizen Convenience Center
2840 Sisson Street
Baltimore MD 21211
Telephone: 410-396-7250
Opening Hours: Mon-Sat 09:00 – 17:00
Residents must show proof of city residency (i.e. driver's license, telephone bill, tax bill) before they can drop off any hazardous material as well as identify all materials they are disposing. No leaking or unmarked containers will be accepted.
HHW materials are different than typical hazardous waste. When deciding which item you have, consider whether or not you can find it on the shelf at a grocery store. HHW includes items such as bleach, pesticides, pool chemicals, prescription drugs, glue, ammonia, paint, and batteries, while hazardous waste includes items such as fireworks and asbestos. If you are confused about which item you are holding, call the Convenience Center using the number above. These wastes need to be properly disposed of to ensure the health and safety of residents, wildlife, and the overall environment.
Reliable Recycling Service
In 2011, the Public Works Department of Baltimore collected 26,000 tons of recyclable material and 147,000 tons of trash; as of 2010, Baltimore had a 27% recycling rate. The recycling and waste prevention program serves a population of over 800,000 residents spanning approximately six hundred and forty miles. A total of three hundred and twenty thousand single family homes, town homes, apartments, and condominiums are serviced on a weekly basis by forty-seven private haulers. These curbside recycling programs accept empty aerosol cans, aluminum, books, bottles, and cardboard and paperboard boxes. In addition to curbside recycling, there are eight citizen drop-off sites listed here.
Safeguarding Baltimore County
As of 2007, US residents generated about two-hundred and fifty million tons of trash and recycled or composted roughly eighty-five million tons, which equates to approximately a thirty-three percent recycling rate – not a great rate by any means. On the other hand, the recycling rate increased almost twenty percent from between 1980 and 2007. On average, Americans generate almost five pounds of waste per person each day. Overall, it is time to get very serious about conserving the natural resources and landfills we have left.
The most effective way to keep Baltimore (or any place, for that matter) clean is through waste prevention. Waste prevention is the practice of reducing the amount of materials wasted – the best way to reduce waste is to not produce it in the first place. Waste prevention reduces collection costs as well as the costs associated with processing and disposal, meaning residents and businesses pay much less for waste services such as a Baltimore dumpster rental. Also, there is no energy or landfill space wasted. There is no method of recycling that helps the earth as much as the practice of simply using less "stuff".
Daily ways to participate in waste prevention include using both sides of paper, using cloths instead of paper towels, switching to online bill payment, and using plastic or glass containers for storage instead of plastic bags. Use-Less-Stuff.com provides some great insights on how you can reduce your waste footprint with very little effort. Another way to participate in waste prevention is by donating and buying second-hand things. Instead of throwing mounds of clothes away each year and purchasing toys brand new from stores, consider donating your unneeded items and cut back on buying items brand new.