Dumpster Rental in Chicago – Rent With Confidence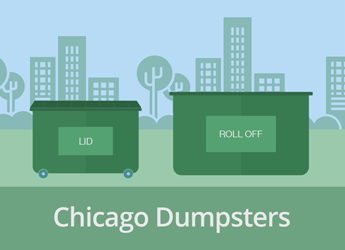 Dumpster rental in Chicago can be useful for a variety of residential and commercial jobs. For residents this includes, but is not limited to, home remodels, major cleanouts, driveway replacement, yard waste, fencing material, and roof replacements.
Residents undertaking a DIY home remodeling project for the first time tend to look for Chicago dumpster rental services at the last minute. Oftentimes, the planning and design work takes precedence and waste removal is the last thing on their mind. Nonetheless, it quickly becomes a priority, especially as it begins to accumulate over the span of the project. Of course, in the case of a contracted build or major home cleaning this is not usually the case.
While it may be possible to make multiple trips to your nearest waste center or attempt to fit all that trash in your curbside container, the wisest choice for the waste removal of large remodels is more often than not to rent a dumpster in Chicago of course.
Roll-off dumpsters, in particular, come in a variety of sizes – from 6 yards on the low end to 40 yards on the high end – and can be rented for any number of consecutive days or even weeks. Generally, a permit is not needed if a smaller dumpster is being rented and kept on your property, but it is always a wise decision to check with your local permit office to make sure that you are not parking a dumpster illegally (and needless incurring more cost).
Once you have procured your dumpster make sure that it is not placed somewhere that is blocking cars or could cause harm by coming into contact with unsafe objects such as utility lines. You will also want to make sure that the dumpster is filled evenly and only loaded with the debris that pre-agreed between you and the waste removal company.
Dumpster Prices
When looking for a dumpster to rent, it is always useful to have some idea of what others have paid for the same or similar job as you. Here are some quotes roll-off dumpster renters in Chicago have received quite recently.
Dimensions (L x W x H) :  approx.  12′ x 8′ x 4′
Suitable for:
Seasonal cleanouts, small bathroom or kitchen renovations, garage cleanouts
---
Quote A
Rental Duration:  14 days
Weight Limit:  3,000 lbs
Price:  $279*
---
Quote B
Rental Duration:  14 days
Weight Limit:  4,000 lbs
Price:  $320
Dimensions (L x W x H) :  approx.  16′ x 8′ x 4.5′
Suitable for:
Small kitchen or bathroom renovations, seasonal cleanouts, yard debris
---
Quote A
Rental Duration:  14 days
Weight Limit:  4,000 lbs
Price:  $299*
---
Quote B
Rental Duration:  14 days
Weight Limit:  5,000 lbs
Price:  $350
Dimensions (L x W x H) :  approx.  22′ x 8′ x 4.5′
Suitable for:
Large scale basement cleanouts, office clear outs, construction and demolition debris for multiple room remodels
---
Quote A
Rental Duration:  14 days
Weight Limit:  6,000 lbs
Price:  $339*
---
Quote B
Rental Duration:  14 days
Weight Limit:  7,000 lbs
Price:  $380
Dimensions (L x W x H) :  approx.  22′ x 8′ x 6′
Suitable for:
Real estate cleanouts, large scale construction and demolition debris
---
Quote A
Rental Duration:  14 days
Weight Limit:  8,000 lbs
Price:  $399*
---
Quote B
Rental Duration:  14 days
Weight Limit:  9,000 lbs
Price:  $475
Dimensions (L x W x H) :  approx.  22′ x 8′ x 8′
Suitable for:
Large residential projects, large industrial and commercial cleanups
---
Quote A
Rental Duration:  14 days
Weight Limit:  10,000 lbs
Price:  $409*
---
Quote B
Rental Duration:  14 days
Weight Limit:  10,000 lbs
Price:  $509
* Price includes rental period, delivery fee, pickup fee, and applicable taxes
Commercial dumpster rates are highly specific to the client and usually lower than residential quotes due to the long-term nature of the rental. You can quite easily get an idea of cost for any dumpster rentals not covered above by calling a few companies (three at the least). Also bear in mind, that these quotes did not include any tonnage fees that may have been incurred. Most waste removal companies charge a fixed price if the dumpster is loaded above its weight limit.
How to Get the Best Dumpster Rentals in Chicago
Before committing to a rental company, be sure to call around and speak with multiple waste haulers that specifically service your area. Not only will this increase your chances of securing the best dumpster service, but it is also a good technique for getting the best Chicago dumpster rental prices.
Regardless of what company you go with, all companies will ask the same basic questions, the most common being:
What are you using the dumpster for, that is, what type of waste are you trying to get rid of?
How much waste do you have?
What date and time would you like the dumpster delivered?
What is the address you would like the dumpster delivered to?
How long would you like to rent the dumpster for?
It is a good idea to have the answers to these questions at hand before calling dumpster companies. If you do not know how much waste you will need to dispose of, it is best to speak with the experts – they know what they are doing! If you still end up between two dumpster sizes, choose the larger of the two. It is certainly better to end up paying for too much dumpster than needing to rent an entirely separate dumpster. A reliable company (the type of service you will want) will:
Explain all fees (and hide none!)
Be knowledgeable about dumpsters and waste disposal, including the waste regulations covering your part of Chicago, and
Provide you with all of the information you need to make responsible waste decisions.
Most importantly, a quality company will seek ways to reuse your trash first before considering it for landfill dumping. They will also follow all of the local regulations and will not leave you with fines for unlawful placement or unpermitted waste.
Caution!
Hiring a disreputable company, on the other hand, will likely result in a huge headache for you. Any number of things can go wrong if you do not receive proper guidance throughout the process: overage charges, broken dumpsters, fines (and possibly criminal charges if the waste is not properly disposed of), and ruined property (yours and possibly others), just to name a few. Be sure to get recommendations from people you trust – friends, neighbors, contractors – and run the company by the Better Business Bureau before making any concrete decisions.
Chicago Waste Management
Chicago runs a Residential Garbage Collection program in which waste is gathered from 600,000 households in single-family homes or apartment buildings of four units or less (others must arrange for private garbage collection) on a weekly basis. The city collects approximately 1.1 million tons of residential garbage and recyclables on an annual basis. Pick-ups occur Monday through Friday, and is serviced by 75 transfer stations.
The City of Chicago has instituted a suspension against landfills within city limits due to high land prices. Because there are no landfills, you can either contact your local waste management or sanitation department to schedule bulk pickup; if that is not an option, a representative will be able to direct you on how to dispose of your debris.
Hazardous Items
Unfortunately, trash consisting of items classed as hazardous will likely not be serviced by a dumpster rental in Chicago.
Household chemicals and electronic waste can be disposed of at the city's permanent Household Chemicals & Computer Recycling Facility at 1150 N. North Branch Street on Tuesdays from 7AM to 12PM, Thursdays from 2PM to 7PM, and the first Saturday of every month from 8AM to 3PM. It accepts items such as household chemicals, batteries, motor oil, mercury, fire extinguishers, unused or expired medications, cell phones, fax machines, and computer cables, among others. Items that are not accepted at this facility include explosives, fireworks, power tools, paper shredders, tires, air conditioners, and stereo equipment, to name a few. For a full list of items accepted and not accepted at this facility either call (312) 744-5000 or visit City of Chicago.
Where Your Waste Goes
Statewide, dumping waste in landfills is the major method for handling municipal solid waste (MSW) which comprises 61.2% of the total waste generated in Chicago; recycling is 36.6% and composting a lower 7.1%. The volume of waste sent to landfill in the Chicago Metro Region increased by 6.7% between 2005 and 2006 to 3.4 million tons, which amounted to 22.5% of all waste sent to landfills in Illinois in 2006. Although the region has the highest percentage for recycling at 41%, it is also the region that generates the most waste per capita per day in the state at 12.9 pounds.
Needing More Recycling
The City of Chicago still has a long way to go in becoming a greener area. It only recently began a recycling program to reduce some of its waste and the range of local options now include city-orchestrated, bi-weekly pickup for some homes to non-existent options for others. The city offers recycling pick-up to roughly 600,000 households through its blue cart program, while other buildings are required by law to provide their own recycling drop-off and pick-up options.
Critics of the city's program point to this disparity for keeping Chicago lagging behind other major cities' efforts to reduce waste. That is not to say that Chicago is doing nothing to recycle: 61,000 tons of recycling was collected in 2012 compared with 85,000 tons in 2013 and 120,000 tons in 2014. Last year alone, the city saved $3.7 million by diverting waste away from landfills through its recycling programs. As of 2009, the city was fifth on a list recycling rates of 10 major cities in the US at 52.4%.
Although comparatively the city may be lagging behind in recycling, you do not have to. To maintain a healthier and cleaner Chicago you can be proud to live in, consider some of the many options available for reducing, reusing, and recycling objects as you undergo your Chicago dumpster rental. For example: cancel junk mail, carry reusable water bottles and coffee mugs, use cloth napkins and rags instead of disposable napkins and paper towels, print double-sided, and do not purchase items in bulk. These are just a few options that will go a long way in reducing your carbon footprint. If everybody did one thing from this list each week, Chicago could greatly reduce the amount of waste it produces. Every little bit helps, so start your recycling today!