Denver Dumpster Rental: Best Service and Pricing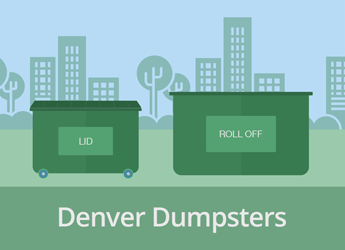 Scheduling a residential or commercial dumpster rental in Denver is easy when you are using a recommended service. Having your waste needs taken care of by a reliable dumpster company is not only a wise decision in the dumpster renting process, but a very important one.
Whenever starting a home renovation or major cleaning project, renting a dumpster is one of the first things that is usually considered – either by the contractor doing the work, or the homeowner themselves. If you plan on clearing out a basement or office space and expect the waste generated will be more than can fit in your regular curbside trash can or recycling bin, renting a dumpster will prove very handy indeed.
To find a reliable dumpster company, first ask friends, neighbors, or colleagues if they have any experience with a Denver dumpster rental service they would recommend; word of mouth is one of the best ways to find a hauler you can trust. If that is not a viable option, you can check for Denver dumpster companies that are certified by established waste management associations, such as the National Waste & Recycling Association. Be sure that the only companies you consider are local; it would be horrible for an incident to occur only to find your customer service is halfway across the country! Local-based companies also have a vested interest in maintaining their reputation, so that they can continue to serve customers.
Getting a Reliable Dumpster Matters
A dependable Denver dumpster rental will provide you with an intact and safe dumpster that will contain your waste and keep your property undamaged. Reliable companies will also factor in any necessary paperwork before the job begins, such as local permits or certifications, have no hidden fees, and will advise you throughout the entire rental process. These companies will save you time and money and make your hire a breeze.
On the contrary, an unsavory hauler can cause you thousands of dollars in fees, property damage, overage charges, and health violations, not to mention the absolute anxiety as a result of such a mess. For example, if a company is found to have dumped your waste illegally, it is very possible that you will also be held responsible for damages and fined. Additionally, an unreliable dumpster can leak waste onto your property, physically harm a passerby; contaminate your other garbage, or even break.
Denver Dumpster Rates
Here are some recent customer prices for residential dumpster rentals in Denver with roll-off containers.
Dimensions (L x W x H) :  approx.  12′ x 8′ x 4′
Suitable for:
Seasonal cleanouts, small bathroom or kitchen renovations, garage cleanouts
---
Quote A
Rental Duration:  14 days
Weight Limit:  6,000 lbs
Price:  $290*
---
Quote B
Rental Duration:  7 days
Weight Limit:  2,000 lbs
Price:  $250**
Dimensions (L x W x H) :  approx.  16′ x 8′ x 4.5′
Suitable for:
Small kitchen or bathroom renovations, seasonal cleanouts, yard debris
---
Quote A
Rental Duration:  14 days
Weight Limit:  10,000 lbs
Price:  $300*
---
Quote B
Rental Duration:  10 days
Weight Limit:  6,000 lbs
Price:  $290**
Dimensions (L x W x H) :  approx.  22′ x 8′ x 4.5′
Suitable for:
Large scale basement cleanouts, office clear outs, construction and demolition debris for multiple room remodels
---
Quote A
Rental Duration:  14 days
Weight Limit:  10,000 lbs
Price:  $320*
---
Quote B
Rental Duration:  10 days
Weight Limit:  6,000 lbs
Price:  $309**
Dimensions (L x W x H) :  approx.  22′ x 8′ x 6′
Suitable for:
Real estate cleanouts, large scale construction and demolition debris
---
Quote A
Rental Duration:  14 days
Weight Limit:  10,000 lbs
Price:  $360*
---
Quote B
Rental Duration:  10 days
Weight Limit:  10,000 lbs
Price:  $340**
Dimensions (L x W x H) :  approx.  22′ x 8′ x 8′
Suitable for:
Large residential projects, large industrial and commercial cleanups
---
Quote A
Rental Duration:  14 days
Weight Limit:  10,000 lbs
Price:  $420*
---
Quote B
Rental Duration:  10 days
Weight Limit:  10,000 lbs
Price:  $379**
* Price includes rental period, delivery fee, pickup fee, and applicable taxes
** $40.00/ton of additional weight
Commercial rates for local businesses take into account a lot more variables than residential rentals, such as the use of smaller trash containers and longer term service contracts. As a result, commercial dumpster renters can get more pertinent pricing information by contacting a reliable Denver dumpster company directly.
Things to watch out for When Renting
As much as it is essential to keep the waste generated on your property properly managed, it is also very important that the process of management used complies with local waste regulation policies.
Dumpsters are essential for keeping excess waste contained – a permit is required to place a dumpster in the public right-of-way; no dumpster may be placed on a city street without first securing a permit from the Denver Public Works Right of Way Services division. A dumpster rental company can secure this permit for you, though you may be responsible for paying the permit fee. Permit costs depend on how long the dumpster will be kept on the city street. Some conditions of the permit state that the dumpster must be placed at least twenty feet from an entrance or alleyway, should not impede access to sidewalks, nor be set in a no parking zone, temporary loading zone, or alley. The maximum amount of time allowed for a dumpster permit in Denver is 180 days.
Residential Waste Collection and Drop-off Services
Before using dumpster rental, Denver residents may consider having their waste needs served by the city of Denver, which offers three waste management services to residents: trash collection, dumpster collection, and manual collection. For trash collection, residents are issued ninety-five gallon black trash carts to set out their trash. The containers must be in the flow line of the gutter or on the designated side of the alley, leaving at least two feet of clearance from any other object. Containers should only be filled to their maximum capacity with household trash and yard waste that cannot be recycled; on non-collection days, the carts should be stored out of public view.
Dumpsters are provided in some alleyways for the disposal of household trash only. All garbage and yard clippings that cannot be recycled should be put in plastic bags before putting the materials in the dumpsters. Finally, manual collection is when the crews take the trash containers from the alley or curb and empty them into a truck. Residents living in manual collection areas are asked to use heavy-duty plastic trash bags or trash cans no larger than thirty-two gallons in size; full containers must not weigh more than fifty pounds. Trash should be set out no later than 7:00AM on collection day and no earlier than 7:00PM the evening before.
There are six private facilities for Denver residents to drop off excess trash and large items for a fee. The facilities, locations, hours, and contact information follow.
D&R Transfer Station
6091 Brighton Blvd.
Commerce City, CO
Telephone: 303-288-5115
Opening Hours:
Mon-Fri 05:00 – 18:00
Sat 05:00 – 14:00
All Recycling North Transfer Station
5350 Washington St.
Denver, CO
Telephone: 303-293-3333
Opening Hours:
Mon-Fri 05:00 – 17:00
Sat 07:00 – 15:00
Allied Waste Tower Road Landfill
8480 Tower Rd.
Commerce City, CO
Telephone: 303-459-8740
Opening Hours:
Mon-Fri (open 24 hours)
Sat (closes at 15:00)
South Metro Transfer Station
2400 W. Union Ave
Englewood, CO
Telephone: 303-766-9219
Opening Hours:
Mon-Fri 05:00 – 18:00
Sat 05:00 – 14:00
Jordan Road Transfer Station
7120 S. Jordan Rd.
Englewood, CO
Telephone: 303-766-9219
Opening Hours:
Mon-Fri 07:00 – 17:00
Sat 07:00 – 12:00
Denver Arapahoe Disposal Site
3500 S. Gun Club Rd.
Aurora, CO
Telephone: 303-690-4303
Opening Hours:
Mon-Fri 06:00 – 22:00
Sat 07:00 – 17:00
Disposing of Hazardous Substances
Rules concerning what materials are and are not allowed in the container vary between Denver dumpster rental companies. Nonetheless, materials that are generally rejected include household hazardous wastes (HHW), automobile fluids, explosives, flammable items, tires, batteries, and asbestos. Throwing non-allowed waste in a dumpster typically results in fines, so it's best to avoid including such items in your trash as much as possible.
Denver residents can discard any household hazardous waste (HHW) they have using the Household Hazardous Waste Program managed by the City. Residents can make an at-home collection appointment once per calendar year and submit a $15 fee for the collection. To qualify for an appointment, residents must have a minimum of three different types of acceptable materials or a minimum of twenty-five pounds of any one acceptable material. Appointments will not be scheduled for only latex paints. Items that can be collected include corrosive chemicals, fertilizers, herbicides, gasoline, pool chemicals, and waxes, among other items. For a complete list of accepted items, click here.
To dispose of items not on the acceptable items list, contact the Colorado Department of Public Health and Environment (CDPHE) at (303) 692-3320.
Making Sure Your Recyclable Items Get Recycled
The benefits of recycling are endless: it conserves natural resources, lowers greenhouse gas emissions, reduces the need for new landfills, reduces air and groundwater pollution, creates jobs, reduces disposal costs, and saves energy, among others. As well as ensuring their dumpster service provider has "green" values at its core, residents are encouraged to participate in the curbside recycling program.
Items that can be recycled by the city include all food and drink cartons, plastic containers #1 through #7, aluminum cans and foil, flattened cardboard no larger than two feet by two feet, food and drink glasses, newspapers, magazines, paper bags, paperboard, phone books, and aerosol cans. You can view the full list of acceptable and non-acceptable items for recycling in Denver here.
The list of items your reliable local dumpster company accepts will typically already be included in their list of acceptable and unacceptable dumpster materials.
Alternative Ways to Recycle
If you find yourself unable to recycle materials in the above fashion, there are still plenty of ways you can contribute to a greener Denver. First, be mindful of the products you buy – be careful not to buy more than you need, try to buy in bulk, and be aware of what your products are packaged in. Next, donate any and all things you find yourself no longer needing. This includes clothes, electronics, furniture, and appliances, among other items.
On the flip side, try to buy products that have been made from recycled or biodegradable materials. Other ways to contribute include carpooling, eliminating junk mail and paying bills online, ask around or check Craigslist before buying anything new, and air-dry your laundry. The list of things you can do in your own home to become more ecofriendly is endless. If more residents cut back on their personal waste, everyone will reap the benefits.