Cheap Dumpster Rental in Detroit, Michigan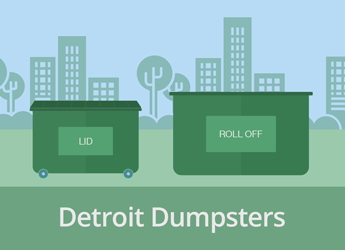 If you're looking for a Detroit dumpster rental service you will most likely want one that can remove your trash safely at the lowest possible price. Why settle for any old dumpster service when you can have the very best? There are plenty of dumpster companies in Detroit that take pride in their work and in protecting the health and safety of the community and environment they are a part of. By doing so, they provide the cheapest dumpster service money can buy as you simply can't put a price on the quality of your health.
Top 4 Things to Know When Renting a Dumpster in Detroit
There are things that if you know about now can save you a lot of money and hassle when renting a dumpster in Detroit.
1. Dimensions, Weight Limits and Price
Whether you're a resident or business in Detroit you can select from a range of dumpster sizes to suit your needs. Dumpster services in Detroit enforce strict weight limits that restrict the volume of debris that can be put into their containers for health and safety reasons. These restrictions take into account how much trash the dumpster and dumpster truck can actually handle based on their weight, structure and size.
You will need to choose your dumpster size carefully. Picking a dumpster that is too small or too big can lead to higher rental costs overall and more pollution of your local environment. For example, you may be charged a penalty fee for overloading the dumpster, evidenced by debris spilling over the walls of the container. You will also incur additional charges if the debris in the dumpster exceeds the specified weight limit.
Recent quotes for a roll-off dumpster rental in Detroit where household and construction debris were accepted are shown below. These rates should help give you some idea of how much dumpster you can expect to get per dollar amount in Detroit.
Roll-off Rates
Dimensions (L x W x H) :  approx.  12′ x 8′ x 4′
Suitable for:
Seasonal cleanouts, small bathroom or kitchen renovations, garage cleanouts
---
Quote A
Rental Duration:  7 days
Weight Limit:  8,000 lbs ($30 per additional ton)
Price:  $300
---
Quote B
Rental Duration:  10 days
Weight Limit:  6,000 lbs ($50 per additional ton)
Price:  $319
Dimensions (L x W x H) :  approx.  16′ x 8′ x 4.5′
Suitable for:
Small kitchen or bathroom renovations, seasonal cleanouts, yard debris
---
Quote
Rental Duration:  14 days
Weight Limit:  4,000 lbs
Price:  $289
Dimensions (L x W x H) :  approx.  22′ x 8′ x 4.5′
Suitable for:
Large scale basement cleanouts, office clear outs, construction and demolition debris for multiple room remodels
---
Quote A
Rental Duration:  10 days
Weight Limit:  8,000 lbs ($50 per additional ton)
Price:  $339
---
Quote B
Rental Duration:  7 days
Weight Limit:  10,000 lbs ($30 per additional ton)
Price:  $350
Dimensions (L x W x H) :  approx.  22′ x 8′ x 6′
Suitable for:
Real estate cleanouts, large scale construction and demolition debris
---
Quote A
Rental Duration:  7 days
Weight Limit:  12,000 lbs ($30 per additional ton)
Price:  $400
---
Quote B
Rental Duration:  10 days
Weight Limit:  12,000 lbs ($50 per additional ton)
Price:  $379
Dimensions (L x W x H) :  approx.  22′ x 8′ x 8′
Suitable for:
Large residential projects, large industrial and commercial cleanups
---
Quote A
Rental Duration:  7 days
Weight Limit:  14,000 lbs ($30 per additional ton)
Price:  $475
---
Quote B
Rental Duration:  10 days
Weight Limit:  12,000 lbs ($50 per additional ton)
Price:  $419
Rear / Front Load Dumpsters
Detroit rental prices for rear and front load dumpsters are a lot more bespoke based on the typically ongoing demand for the service per customer. Nonetheless, the table below will help you get an idea of the available types of smaller dumpsters for rent in Detroit.
Dimensions (L x W x H)
Rear Load :  approx.  31″ x 77.5″ x 47.5″
Suitable for:
Replacement or supplementary residential waste disposal, waste management for a small one room commercial space
Dimensions (L x W x H)
Rear Load :  approx.  36″ x 77.5″ x 47.5″
Suitable for:
Additional or alternative household trash removal, waste collection for very small businesses
Dimensions (L x W x H)
Front Load :  approx.  34″ x 72″ x 38″
Rear-Load :  approx.  57″ x 77.5″ x 47.5″
Suitable for:
Small businesses with a minor waste stream
Dimensions (L x W x H)
Front Load :  approx.  42″ x 72″ x 48″
Rear-Load :  approx.  72.5″ x 77.5″ x 47.5″
Suitable for:
Waste management for a small office space
Dimensions (L x W x H)
Front Load :  approx.  54″ x 72″ x 48″
Rear-Load :  approx.  91.5″ x 81.5″ x 46.5″
Suitable for:
Small-to-medium-sized organizations generating mixed solid waste
Dimensions (L x W x H)
Rear Load :  approx.  114.5″ x 81″ x 46.5″
Suitable for:
Medium-sized businesses and institutions with a moderate waste stream
Dimensions (L x W x H)
Front Load :  approx.  54″ x 72″ x 72″
Rear-Load :  approx.  120.5″ x 81.5″ x 46.5″
Suitable for:
Medium-to-large-sized organizations generating most types of solid waste
Dimensions (L x W x H)
Front Load :  approx.  66″ x 72″ x 81″
Rear-Load :  approx.  159.5″ x 81.5″ x 46.5″
Suitable for:
Household yard cleanups, waste management of large scale businesses and institutions
2. Permits
If you plan on placing the dumpster on public property, permits may be required. Your Detroit dumpster rental company of choice will help you determine whose responsibility it will be to obtain any necessary permits. Your local municipality may also require permits for dumpsters placed on private property, so it's definitely worth discussing this with the rental company you're considering from the outset.
Permits help ensure that you nor other citizens in Detroit are not placed in harm's way by the dumpster being rented. It is therefore also advisable to ensure that you take the necessary steps to protect your property from damage from being damaged by the dumpster service.
For example, make sure that there is enough room for the dumpster truck to deliver and collect the trash container. This includes removing any obstructions blocking the truck's path. If you are renting a large container for a project such as a home renovation, it is also recommended that you protect your driveway or street by placing the dumpster on a strong defensive surface.
Doing this will keep your rental costs at a minimum.
3. Prohibited Items
Responsible dumpster companies will not accept hazardous waste items like solvents and metals to be put in the container with recyclable waste materials such as cardboard and wood. Some may not dispose of hazardous materials at all. If you want to dispose of hazardous waste make sure you inform the dumpster company you are considering first to see if they can provide the type of service you need. Failure to do so can result in penalty fees, which will not make you a very happy customer.
The reason hazardous waste is not so readily accepted by dumpster companies in Detroit is because they are very expensive for them and the environment to deal with. This type of waste is toxic and therefore cannot be dumped in landfills or incinerated with the rest of solid waste materials, due to their toxicity. Doing so would seriously damage the soil, public water systems and air communities in Detroit rely on every day.
If you are a resident looking to dispose of household hazardous waste items that cannot be collected by a dumpster company you can drop off these items at the official facility of the City of Detroit. The address and details of this facility are below:
Detroit Household Hazardous Waste (HHW) Receiving Facility
2000 E. Ferry
(near the I-75 and I-94 freeways)
Opening hours: Monday to Friday, 08:30 – 15:30
Call 313-923-2240 or 313-876-0148 to schedule your delivery of hazardous waste materials at this facility.
This facility is open to Detroit residents only absolutely free of charge, and will only accept the following types of hazardous waste:
Home Office Equipment
Fertilizers, Pesticides and Weed Killers
Paint Thinners, Solvents & Varnishes
(Batteries, brake fluid, fuel, kerosene, motor oil, filters, etc.)
Electronics Car Equipment
Household Batteries
Wood Preservatives
Home Repair Products (glues & caulk)
Cleansers & Polishes
Fluorescent Light Bulbs
Mercury Thermometers
The list of toxic waste not accepted at this facility are:
Commercially Generated Wastes
Radioactive Materials
Unknown or Unlabeled Wastes
Explosives and highly flammable materials
Shock-sensitive Materials
Smoke Detectors
4. Rental Duration
How long will you need to rent the dumpster for? If you're using a dumpster for residential purposes, you're likely only going to need the dumpster for one-off occasions, lasting no longer than a month at a time. Contractors may need a dumpster for a longer period to carry out construction or demolition work.
Local businesses and institutions on the other hand will probably need a regular dumpster service that can empty the dumpsters on their premises anywhere from a daily to monthly basis, after their initial delivery.
You can rest assured that most Detroit dumpster rental companies will be flexible towards your preferred delivery and collection schedule. Some will even waive any penalty fees associated with lapsed rental durations. Nevertheless, it is advisable you stick to the initial terms of the rental agreement and have the dumpster ready for pickup on time to avoid the risk of incurring any further costs. Costs can be anywhere between $5 and $15 for each additional day you need to use the dumpster past the agreed period.
Dumpsters for Household and Construction Debris
The most common type of dumpster used for clearing debris from household or construction projects is a roll-off dumpster. These open top, typically rectangular, containers are recognizable by the fact that they smoothly roll off the back of the dumpster truck when being delivered. Once the container is ready to be picked up, it is rolled back on to the dumpster truck via the same unique hydraulic mechanism on the truck.
To rent a roll-off dumpster in Detroit for two weeks prices range from as low as $165 for a 10-yard dumpster to $500 for a 40-yard dumpster. You should call the company directly to get exact quotes for your job as the price of a dumpster rental in Detroit can fluctuate over time, depending on factors such as the tipping fees charged to haulers by the City of Detroit.
Roll-off containers are ideal for collecting construction and demolition debris, as well as rubble from home renovations and similar residential projects. They can take large amounts of waste material at a go and enable you to dispose of each item at your own pace. Some roll-offs have a door either on the front or back of the container so that debris can be better placed inside the dumpster. This is useful as throwing debris over the walls of the dumpster can disturb neighbors and potentially cause injury.
Trash Inspection
Throwing out trash without thought can be very easy to do after working on a long and often stressful bathroom remodeling project or garage cleanout. However, it can have serious consequences for you and your community for reasons other than those explained earlier.
Materials that may seem of no value to you may actually be worth a lot more than you think. This is why, for example, there are companies in Detroit lining up to buy your broken electronics, appliances, furnaces, and other waste items. They know that the materials and components that make up such items are worth real money.
You may be wondering what you can you do about this. Simply adopting a prudent approach to your trash disposal is always a good place to start. As you carry out your debris cleanout, get in the rhythm of inspecting each item carefully. Use your judgment to determine if certain items can be kept, passed on to someone you know or sold on to a local company or individual.
Recycling materials such as plastics, paper bags and clothing can uplift the living standards of communities. You could also recoup some of your rental costs by selling your recyclable items back to their original companies.
If you're unsure about the monetary value of any of your items, don't rush and just throw them away. Instead, put them to one side and come back to them later on if you can, preferably with the added value of a second opinion.
Another popular alternative to get more out of your trash is to hold a yard sale. It is very true that one individual's trash is another person's treasure. Something is definitely better than nothing, and the same is true for your unwanted items. That something could be In the form of knowing that you helped somebody in your community that is less fortunate than you by providing them with a blanket or other item that would originally have been sent to landfill.
Think of the many reports you have heard on people discovering highly valuable items others have either thrown out or sold in local flea markets. The next amazing find could be right under your nose! It really does pay to pay very close attention to what you are actually putting into your rented dumpster.
Commercial Dumpsters
Dumpsters are popular among business entities such as restaurants, shopping malls, gas stations and retail shops. They are also commonplace among schools, hospitals, research centers among other institutions. There are two main types of commercial dumpsters for these entities including front load and rear load dumpsters. Some of these may also be roll-away dumpsters, evidenced by the fact that they can easily be pushed or pulled from one spot to another during servicing. These dumpsters are popular among businesses that generate lots of waste frequently.
Even if you have the facilities and funds available to buy your own dumpsters it would be comparably cheaper to rent one instead when you consider the added services that dumpster rentals in Detroit provide.
Front load dumpsters come in sizes of 2 yards, 4 yards, 6 yards and 8 yards. As their sizes suggest, they are commonly used for trash and garbage removal. Unlike other containers, the front load dumpsters are fully enclosed.
Similarly, rear load dumpsters come in a slanted design making them ideal for areas with limited space such as alleys and other fenced areas. As their name suggest, they are loaded onto the rear of a garbage truck during servicing. They come in sizes ranging from 2-yards to 8-yards.
Commercial pricing for Detroit dumpster rentals will depend on various factors such as the frequency of service you require. For example, you could decide to have your trash serviced, monthly, weekly, bi-weekly or daily.
Responsible Recycling and Waste Disposal
Unfortunately, it's become common practice for many commercial businesses to dispose of goods in their inventory simply because they didn't meet certain cosmetic criteria for sale. This includes items such as food and clothing being thrown into dumpsters and sent to landfills because of cosmetic defects. Such practices can have a huge cost on the Detroit community for several reasons:
They require more resources to collect, produce and supply those same items, which could have been saved.
The waste items of such practices occupy precious landfill space and could mean more landfill sites being developed in the Detroit area.
Following on from the previous reason, more money spent on landfills rather than more beneficial aspects of Detroit City.
Therefore, businesses and institutions renting dumpsters in Detroit are encouraged to be resourceful with their products and supplies so that the Detroit environment can thrive.
Benefits of a Reliable Dumpster Service in Detroit
A reliable dumpster company ensures that the materials put into the dumpster can be processed in the most responsible way before and after they are collected. This is important due to the fact that the waste systems in Detroit have some ways to go to being sustainable.
The City of Detroit's Department of Public Works handles most of the waste disposal services in Detroit, MI. They offer services such as bulk collection, yard waste, commercial refuse account, container services, environmental enforcement, dead animal removal and recycling services. In addition, they also provide educational seminars on proper waste management techniques.
The latest published figures from the Department of Public Works showed that within the calendar year of the report 280,316 tons of refuse was collected in Detroit. However, only 20,498 tons (7%) of this was recycled. What happened to the remaining 259,818 tons? Well, if it wasn't recycled it most probably ended up buried in a landfill or incinerated, both of which pose a genuine risk of polluting the soil, public water systems and air in Detroit.
Before using any Detroit dumpster rental services consider if any of the materials you intend to throw away could be reused in some way, either by yourself or someone else in the community. Alternatively, ensure that your recyclables are properly sorted for recycling. These easy steps alone can make a huge difference in sustaining the health and wellbeing of your home, business, and local environment.
With proper treatment of waste products, health conditions such as asthma, bronchitis and other diseases related with poor sanitation will be a thing of the past.
Detroit Dumping Rules
Improper dumping of waste materials in Detroit is not a trivial matter. Careless dumping could land you with a hefty fine or even result in imprisonment. It is a requirement that you dump your waste products at the designated locations only. Some of the offences associated with illegal dumping include dumping waste materials on private or public land, dumping waste into waterways and sewers without a permit and allowing other people to dump on your land without receiving a permit.
Penalties for illegal dumping of waste products include: fines, community service, incarceration, probation, remediation and restitution.
If this is your first time booking a Detroit dumpster rental service, be sure to mitigate the risks against yourself and your business by seeking legal instruction from your local municipality directly.