Dumpster Sizes: The Whole Nine Yards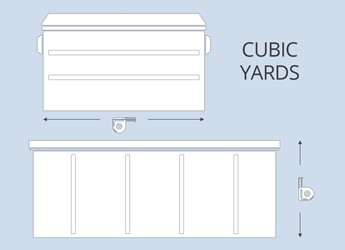 With so many dumpster sizes available for residential, construction and commercial customers, how do you know which size is right for you? The best way to figure this out is to see which size dumpster others have used for the same type of job. Here, we will outline the most common use cases for the different dumpster sizes and provide you with some super handy tips along the way.
Admittedly, choosing the right dumpster for your business or project and indeed a container that is of a suitable size can be difficult. However, there are some straightforward steps you can take to not only get the correct dumpster, but also save on costs while reducing the environmental impact of your waste disposal.
Dumpsters come in an array of sizes ranging from 1 cubic yard to 40 cubic yards. Naturally, the size you opt for will very much depend on the scale of your business or the project that you are undertaking. For example, if you only want to clear out some general household trash or driveway concrete from your home you may want to consider a 10 cubic yard dumpster as it is most commonly used for such occasions. 10 yard dumpsters are also good for clearing out debris from small home renovations and remodels.
Getting Dumpster Measurements Right
Below we will take a look at dumpster sizes in more detail, namely the dimensions of roll-off, front load, and rear load dumpsters. Some will be more suitable for commercial waste as opposed to residential waste, which can be the determining factor alongside the type of waste you are, or intend to be disposed of.
Roll-off Dumpster Dimensions
Roll-off containers are commonly used by contractors and construction companies in the renovation, remodeling or demolition of both residential and commercial properties. Although it can be used for smaller cleanouts, this type of dumpster is particularly good for medium-to-large scale projects because of the volume and weight of debris it can handle. Roll-off sizes range from 10 yards to 40 yards, each of which will have their own specific weight limit depending on the company that is providing them. And as with other rental options, you can expect to pay an extra fee if the weight limit is exceeded during your rental.
When using any type of dumpster it is recommended that you find out whether a permit is required, either from your local municipality or dumpster company, or better yet, both. This is particularly important if you plan to place the dumpster in an area that is a public right of way.
Roll-off dumpsters normally have a door which can make loading debris much easier, especially if you have a lot of it and if some of the items are bulky.
To get an idea which dumpster is most suitable, we need to look at the different sizes and which project may be suitable, depending on that size. These are normally for residential and construction rentals. It is worth noting that size isn't the only influencer of costs; location is also quite a big factor.
Prices can vary considerably from one city to another due to differences in local tipping fees and other similar waste disposal costs, so it is worth getting quotes from a few different companies that are closest to you first.
The dimensions given below are estimates only. Real sizes of roll-off dumpsters will vary considerably depending on location and the dumpster company.
10 Yard Dumpster – ten yard dumpsters can hold up to ten cubic yards of waste which is enough to hold trash generated from smaller clear outs such as a seasonal household cleanout, and debris from a minor business or home renovation project. It is about 12 to 13 feet long, 6.5 feet wide, and 4.5 feet in height.
15 Yard Dumpster – the fifteen yard dumpster is a great option if you are looking for something on the smaller side but that would still be appropriate for your renovation project. On average, it is around 10 feet long, 8 feet wide, and about 3.5 – 4 feet in height.
20 Yard Dumpster – a twenty yard dumpster is suitable for debris generated from larger home renovation projects but where space may be at a premium. It is also useful for clearing out materials from commercial offices. A typical twenty yard dumpster is 20 feet in length, 8 foot wide, and approximately 3.5 feet in height.
30 Yard Dumpster – this size dumpster is commonly used in large scale construction or demolition projects. Its length is typically around 20 feet, width around 8 feet and height roughly 5.25 feet.
40 Yard Dumpster – with the ability to hold up to 40 cubic yards of waste, this is the biggest container available. It is mostly used in very large residential, industrial and commercial cleanups and is approximately 20 feet in length, 8 feet wide and 7 feet tall. If you have a project that is large but you are not sure of how much debris you will produce, you should go for this size. Overfilling can really add up and a project that was supposed to stay in budget could end up skyrocketing.
Rear and Front Load Dumpster Dimensions
With sizes ranging from 1 to 8 yards, front- and rear-loading dumpsters are used to service both commercial and residential waste removal needs. Perfect for collecting solid and recyclable waste, these dumpsters are mostly rented on a temporary or permanent basis by commercial businesses and institutions. Services offered with front load dumpster includes daily, weekly, or monthly collection.
Due to differences in their design, front-loading dumpsters can be anywhere between ten to forty percent shorter than rear-loading dumpsters. So, if space is really at a premium on your home or business property, front load dumpsters could be the better option as they can also be anywhere up to sixty percent shorter in length than rear load containers. However, rear load containers typically have a higher capacity meaning that they can store a greater volume of waste than front load containers.
Both front and rear load dumpsters cannot be used to dispose of hazardous waste materials.
The dimensions provided below are estimates only. Real front and rear load dumpster sizes will vary considerably depending on location and the dumpster company.
1 Yard Dumpster – the one yard dumpster is the smallest dumpster size which usually only comes as a rear-loading container. It is ideal for very small businesses generating an insignificant volume of waste. Its approximate dimensions are 31 inches long, 77.5 inches wide and 47.5 inches high.
1.5 Yard Dumpster –also typically a rear load container this size dumpster is especially fitting for very small businesses wanting to make certain that the capacity of their waste container is sufficient to last between scheduled collections. Its length is about 36 inches, width 77.5 inches and height is around 47.5 inches.
2 Yard Dumpster – two yard dumpsters are generally suitable for collecting mixed waste from small businesses that have a less significant waste stream. Front load dimensions are around 34 inches long, 72 inches wide and 38 inches tall; while rear loads are around 57 inches long, 77.5 inches wide and 47.5 inches high.
3 Yard Dumpster – a three yard dumpster is adequate for weekly collection of trash generated from a small office space. Its estimated dimensions as a front load are 42 inches in length, 72 inches wide and 48 inches tall; and as a rear load are 72.5 inches long, 77.5 inches wide and 47.5 inches high.
4 Yard Dumpster – this particular container size can cope with mixed debris and normally has a side door which makes it perfect for holding comingled waste. It is approximately 54 inches long, 72 inches wide and 48 inches tall as a front load; and 91.5 inches long, 81.5 inches wide and 46.5 inches tall as a rear load.
5 Yard Dumpster – you can find a dumpster that is five cubic yards mainly in the form of a rear load. Its dimensions are estimated at 114.5 inches in length, 81 inches in width and 46.5 inches in height. It is particular useful for organizations such as medium-sized restaurants and health facilities.
6 Yard Dumpster – six yard dumpsters are more appropriate for medium-to-large-sized businesses that generate most types of solid waste. They are around 54 inches long, 72 inches wide and 72 inches high as a front load; and about 120.5 inches long, 81.5 inches wide and 46.5 inches high as a rear load.
8 Yard Dumpster – this is the largest of all rear- and front-loading dumpster sizes that is best for the regular waste management needs of large scale businesses, schools and other institutions. Depending on the dumpster company they can also be used for small scale residential cleanouts such as a backyard cleanup. As a front load, eight yard dumpsters are about 66 inches long, 72 inches wide and 81 inches high; while as a rear load their dimensions are 159.5 inches long, 81.5 inches wide and 46.5 inches tall.
How Dumpster Companies Can Help
Still, the question remains – how do you know which size is the best option in terms of cost? To put it simply, the best answer will come from a dumpster company, which is why it is sensible to call and speak to them directly about the sizes they offer as a priority. Responsible and established dumpster companies are experts at estimating the right dumpster size for varying circumstances in line with the type of waste materials to be disposed of.
For example, if you had a very big building project underway it really would not make sense to have a 10 yard dumpster. They would probably suggest a 20 yard dumpster as a minimum, or if the scale of the project involved a large renovation that included roofing, they may suggest a 40 yard dumpster. In fact, if you are undecided and your project lies somewhere between the two it might make sense from a cost perspective to get a 30 yard dumpster.
Also, you may need more than one container on site depending on the scale of the work being carried out. Taking the just-in-case approach would help you avoid overage charges, which as their label suggests are fees associated with you loading a dumpster over the agreed volume of debris.
Comparing the Size of a Dumpster with Costs
As you get quotes from various dumpster companies in your area it is worth asking them about all the possible fees that could be added to the base rate of your dumpster rental.
For example, they may charge extra for the additional fuel consumption of their trucks and include surcharges for dumpsters that are not ready for pickup or returned on time. Fees for late returns are on average $5 -$10 per additional day over the agreed rental period and usually result from the renter underestimating the volume of waste requiring removal.
This is why it is wise to do a thorough assessment of your debris before committing to use a particular dumpster size. Most rentals for construction projects last about a week and for a 40 yard dumpster cost on average between $500 and $600 excluding penalty fees.
You should also think about whether the dumpster company offers any environmental incentives with their service. In accordance with recent trends and legislative pressures, many waste haulage and management companies are making a concerted effort to be greener by recycling as much of the debris they collect as they can. By doing this they are able to pass greater cost savings to you the customer through reduced tipping fees for waste sent to landfill.
It is worth mentioning that most dumpster services do not accept hazardous waste due to the prohibitive tipping fees they have to pay to dispose of this type of waste. The price of a rental can increase significantly if hazardous waste is discovered inside a container without the company's prior permission. Household waste and construction waste are the only two types of waste that are commonly permitted in dumpsters – in other words non-hazardous material!
If you do have hazardous waste to dispose of, don't despair. For an extra cost, dumpster services can make provisions to help you properly dispose of this type of waste. A cheaper alternative to dispose of any hazardous materials you may have is to find out where your nearest hazardous waste drop-off center is, as provided by your local environmental agency. Some cities offer free drop-offs for specific types of hazardous waste while others may charge.
Aside from debris disposal and recycling options, other factors you should consider are the fact that the dimensions and price of a rental trash container will vary slightly from one company to another. Dumpster dimensions were expanded upon earlier on.
If you require dumpsters for longer term use and require a contract, it is worth conducting a waste analysis of your business using an established waste management company. They can advise on things such as the amount of waste that is most frequently disposed of from your premises as well as the waste materials your business is typically generating. A waste analysis will also help determine the amount of recyclable trash from your business that is actually being sent to be recycled. Not only can this help your business control costs but it also provides the added benefit of knowing how environmentally-responsible your organization is in the greater scheme of things!
Key Points to Remember
No matter the size dumpster you choose, location and the company you use will affect the price of your rental, along with the volume of waste you intend to put in the container. It is worth getting quotes from reliable dumpster services nearest to you to get more competitive pricing.
Consider having a waste analysis if you are not sure about size. This will help ensure that you don't get a dumpster that is too small for the task and minimizes the risk of incurring overage charges for overfilling the dumpster.
Always inquire about the most environmentally-friendly method of disposing of your trash. Dumpster companies are incentivized to be greener in their activities and are often able to pass these savings on to their customers.
Ensure you only put the right type of waste materials in their designated dumpster. Doing the opposite can contaminate perfectly good and recyclable material and has an adverse affect on your environment and community.
Allow enough time for your rental of you need a dumpster for less than one month. Going over the rental period can lead to late penalty fees. Although this additional charge tends to be quite reasonably priced you still want to remain within your budget.
Inquire with your dumpster company and local municipality whether you need to have a permit to use your dumpster. A permit will likely be required if you plan to place the dumpster on public property.
Reliable dumpster rental companies are a source of excellent advice on dumpster sizes. It is their job, so utilize their expertise as much as you can if you have questions about your trash.