Dumpsters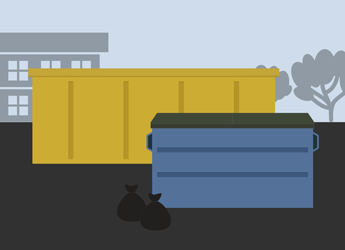 Dumpsters, we've all seen them, and probably smelled them, too. But how much do you really know about them and all they do?
What is a Dumpster?
For starters, dumpsters are the large usually steel crates we see in alleys, next to buildings, and in parking lots. They hold large amounts of waste until garbage trucks can empty the waste in a dump. Garbage trucks come to the dumpsters, typically on a scheduled route, pick the dumpsters up, and empty the waste into the back of the truck.
Dumpsters can be specifically designated for recycling, certain types of waste, or be used for general garbage. By having dumpsters in place, businesses and places that see a lot of foot traffic can have garbage and its odor contained. Without dumpsters, we would see an overflow of trash bags sitting on the street and leaning against buildings waiting to be picked up on trash day.
Types of Dumpsters
There are a variety of dumpsters that are tailor-made for specific locations and purposes.
Roll-offs
For example, roll-off dumpsters are the large rectangular crates you may see on a construction site or walking down the sidewalk near home renovations. The largest benefit to this dumpster is how easy it is to drop the trash inside. You can either toss the debris inside if the container has no doors, or more carefully place the debris inside the dumpster if it does.
This type of dumpster has no lid, which is especially convenient when working at higher levels in which a worker can just drop waste into the crate. However, roll-off dumpsters can only be moved by trucks with a built-in roll-off mechanism and therefore run the risk of damaging the surface they are placed on.
Front Load and Rear Load
Front load and rear load dumpsters are also a common sight. Front loading dumpsters are a convenient way for smaller businesses to store their waste. They are squat, compact dumpsters with a light lid, easy to pop open and toss a trash bag or two inside. These dumpsters have a higher back than front, allowing more trash to pile up in the back while still making it easy for people to open the lid and throw trash inside.
Both front and rear loading dumpsters are smaller than roll-off containers, which means they can fit into smaller spaces much better than roll-offs can. Many front and rear load containers also come with wheels attached for easy maneuvering, and are typically seen in alleyways and parking lots where space is limited.
Dumpster Bag
The final type of dumpster is one that may surprise you – a dumpster in a bag. Dumpster bags are very convenient for on-site projects and fitting into tight spaces. They can hold up to 3,300 pounds of waste and are very durable. A dumpster bag is the most cost-efficient choice to buy of all the dumpsters and is used as a temporary measure rather than as part of a long-term solution to waste management.
Dumpster Services
Renting dumpsters is a moderately easy process. Simply find a local rental company online and request your dumpster. The companies typically have various sizes and types to fit your needs and will deliver your dumpster to you.
It is important to have the space available for your dumpster and in some cases you may need a permit to have a dumpster on your property. It is important to check with your dumpster service to see what restrictions are placed on the dumpster size allowed, number of days you can have the dumpster, and the types of permits (if any) that are required.
It is also important to note that certain types of waste may not be placed in certain dumpsters: for example, no hazardous material may be put in any of the general waste dumpsters. A dumpster company may offer to dispose of this type of waste separately. The limitations on what waste is allowed in what dumpsters may also vary by location, but all of the limitations will be discussed with the customer when renting a dumpster.
As a customer, it is also important to remember that some damage may occur when placing a dumpster on your property. Sidewalks and any other pavement could crack and get damaged at no fault of the rental company.
When your allotted rental time has passed, the company will send a truck to pick up the dumpster and take it away. As the customer, you must be sure that all of the waste is securely in the dumpster (nothing sticking out of the top or that can potentially fall out). Charges associated with delivery, pickup, disposal and transportation are usually all factored into the overall rental cost.
Advantages of Dumpster Rentals
The main benefit of having or renting a private dumpster is that the customer determines the disposal schedule and can collect and store larger amounts of waste without it being a curbside eyesore. A private dumpster is needed when a person or business is generating more waste than the curbside pickup can handle. These dumpsters can help our streets stay cleaner and smell better.
Important Waste Facts
According to the EPA, 249.86 million tons, or 4.43 pounds per person, of solid waste was generated each day in 2010. That's a lot of waste! In 1960, the figure was 88.12 million tons per day. With each passing year, more and more waste is being generated per person. From an outside-in viewpoint, our waste habits are becoming out of control.
Not only are consumers becoming more wasteful, they are buying more products in bulk, increasing the trash amount further. On a more positive outlook, 26% of waste was recycled in 2010 compared with a mere 6.4% in 1960. In terms of recycling, paper and cardboard are by far the most common products seen in waste management, with a sum of 71.31 million pounds of waste generated by them in 2010; the second largest culprit, glass, generated a relatively mere 11.53 million tons.
Landfills are the most common method of placing waste, so you can expect most of the trash in your dumpster to end up there. In fact, 54.2% of all waste generated in 2010 ended up in landfills. Because regulations are becoming more stringent, however, the number of landfills is steadily decreasing and as of 2010 1,908 remained. On the flip side, the newer landfills are often larger so the national capacity of landfill waste has not varied by much. The largest landfill in 2010 was in Las Vegas, Nevada, with 3,341,591 tons of waste.
While there is still a great deal of work to be done with safely disposing of all of the waste produced globally and in the USA, the EPA's 2013 inventory of anthropogenic sources of greenhouse gases showed that solid waste management only generated 1.8% of that figure.
Recycling Dumpster Trash
To further reduce the sheer amount of waste we generate, we need to take a hard look at recycling more, not only as individuals, but as a community. In 2005, recycling was projected to prevent 48 million metric tons of carbon emissions, which would be the equivalent of taking 36 million cars off the road for an entire year. Recycling further reduces the need for landfills and leaves the limited landfill space to materials that cannot be recycled. One ton of recycled paper saves the equivalent of 17 trees and 7,000 gallons of water.
That's why there are garbage dumpsters that are made specifically to collect your recyclables!
By substituting scrap material for the raw materials of trees, oil, minerals, etc., we can greatly reduce the pressure exerted on forestry and mineral production. Mother Earth has limited resources which is why there needs to be a collective focus on reusing the materials we all have already used – we can only withdraw so much without giving back before we are left with nothing.
Recycling can also save on the energy exerted making new materials. Studies by the EPA has shown that recycling aluminum cans can save 95% of the energy used to make brand new cans. In more visible terms, this means that recycling just one soda can will produce enough energy to run a computer or television for three hours!
If the natural benefits are not enough to take a harder look at recycling, the economic benefits are just as impressive. The recycling industry creates new jobs and the current industry employs over 1.1 million people and grosses over $236 billion in annual revenues. As we recycle more materials, more value is added to those reusable materials and creates additional jobs. We also need more material sorters, dispatchers, truck drivers, chemists, process engineers, and so on.
Without the recycling industry, all of these people would be out of a job.
It is vital that we recycle for the Earth's sustainability. Get out and start your community recycling more today!
A Cautionary Note on Trash Disposal
It has become very easy for individuals to throw away all sorts of trash irresponsibly without thinking about the consequences of their actions on the community's environment. The extent of the waste problem has reached the point where some residents are even sneaking their household trash into other neighbor's garbage containers because their dumpster is already filled to capacity for the next scheduled collection.
Also, you won't have to look hard to discover some piece of toxic waste or dead animal carelessly dumped by the wayside or possibly on your own property without your consent. An illegal landfill forms when large volumes of trash are being disposed of at one particular site. Illegal landfill sites pose a real threat to human health and the environment, particularly if they contain large volumes of hazardous waste and are near water-ways or places with easy public access.
These types of scenarios demonstrate that public and private waste management services alone are not enough to effectively minimize the impact of waste on the environment. Ultimately, attitudes toward trash disposal need to change. Members of the community need to be empowered through education so that residents and businesses would be more thoughtful about the waste they are generating, and think twice before putting anything out into their garbage dumpster or container.
Many cities across the country deploy teams of environmental service officers to patrol neighborhoods to discourage illegal dumping and investigate any complaints from citizens. If you encounter an illegal dump you are encouraged by the environmental services of your city to report the incident following their procedures. To find out how to report an illegal dump, simply visit your local municipality's website and do a search for illegal dumping.
Dumpster Diving, a Grey Area
You might be surprised to learn that there are individuals (with roofs over their heads) whose hobby it is to go searching through dumpsters looking for valuables. Some even travel to many different dumpster hot spots around the country to find their next piece of treasure in someone else's trash that they could possibly use or sell on.
If you're a home, property, or business owner, finding someone going through your trash container without your consent can be a very uneasy experience. You most likely wouldn't want anyone you didn't know handling any of your property without your permission. Likewise, although dumpster diving is a common activity across the country, it is a grey area regarding the law.
Some states have made absolutely clear that dumpster diving activity is illegal and will be considered theft, while other municipalities have yet to address the issue directly.
Nonetheless, dumpster divers are advised to always get permission from the legal owner of the dumpster before going through their trash to avoid any possible backlash from the owner or city law enforcement.