Home Renovation Debris: Effective Management & Disposal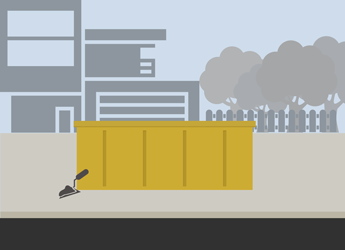 Home renovation debris falls under C&D waste, or construction and demolition waste. C&D waste is generated from construction, repair, renovation, and the demolition of houses, roads, piers, dams, bridges, and other large building structures. This waste is made up of concrete, gypsum, masonry, wood, steel, asphalt, plaster, and metal. It is important to be careful with this type of waste as it can contain hazardous material such as asbestos and lead.
Landfills accepting C&D waste have limited capacity and due to environmental concerns are either closed or scheduled to close. It is important to research local regulations that are relevant to you concerning the management of this type of waste in your area before embarking on your renovation project.
Disposing of Home Remodeling Debris
While the exact regulations vary by location, most drop-off facilities do not accept home renovation debris, so it needs to be brought directly to a landfill. Not all home renovation waste material is unacceptable but the types of debris that will likely be rejected by most facilities include but are not limited to the following:
Asphalt shingles
Ceiling tiles
Flooring
Sheetrock and drywall
Sinks
Toilets
Porcelain or glass tiles
Countertops
Bathtubs.
Again, this list varies by location, so there may be more or less unacceptable materials at your local drop-off facility.
4 Ways to Dispose of Home Renovation Debris
To dispose of your debris, there are a few different options.
A: Haul it to a facility by yourself.
While this may be a cheaper option, be sure that you have the appropriate vehicle (think long-bed pickup truck) and that you have properly separated the materials. Facilities no longer allow massive drop-offs and will likely require that you separate the materials before weighing the total amount. Removing the debris yourself will also add a sizeable amount of time to your project and create physical stress.
B: Hire a junk removal service.
This option will eliminate the need for you to rent a roll-off dumpster or go through the trouble of hauling the debris yourself. Most of these haulage companies are local and will go into your house or farther onto your property for an extra fee so try to put your waste as close to the curb as possible. Other services likely to be included in your removal contract are sorting, loading, dumping fees, recycling fees, and overall cleanup. Unfortunately, this is an easy way for you to lose track of how much debris you actually have which might result in an unforeseen, large bill at the end of your project.
C: Use a dumpster bag.
Dumpster bags can be purchased at any local home improvement store and can be picked up (again, depending on your local facility) by waste management. These durable bags can be placed at the edge of your property and hold up to 3,300 pounds of debris.
D: Rent a roll-off dumpster.
Roll-off dumpsters, on the other hand, will neatly contain your debris and accept many materials that you wouldn't normally be able to toss in the curbside trash or dumpster bag. Unfortunately, you may need a permit to have a roll-off dumpster, rental fees vary, and your neighbors might not be as fond of your new piece of equipment as you are. There are many ways to dispose of your home renovation debris so make sure you do your research and dispose of it safely and legally!
Most Popular Method
By far the most common method of waste disposal for a home renovation project is to rent a roll-off dumpster. After finding a reputable company, it is the easiest (albeit, not always the cheapest) way of disposing the waste: the company will drop off and pickup the dumpster as well as dispose of the waste. You only need to schedule the dumpster, pay for it, and possibly obtain a permit to have the dumpster on your property for a specified amount of time.
Roll-offs come in various sizes and it is likely you will find one that fits your needs. The most common containers are ten, fifteen, twenty, thirty, and forty-yards in size. Dumpsters are sized according to volume but be sure to not go over the weight limitations as well – you may only need the volume of a ten-yard dumpster but if you plan on filling it to the brim with concrete you will need a larger dumpster.
Additionally, many locations will require you to have a permit if you want to place a dumpster on a public street or anywhere else that is not your property (and in some places you will need a permit even if it is on your property). If this applies to you, make sure you have your permit in line before renting the dumpster. Placing a renovation dumpster on the street without a required permit is illegal and will land you with a hefty fine.
Managing Non-Acceptable Waste
Hazardous wastes are first and foremost solid wastes (garbage, refuse, sludge, and other discarded material). They are not allowed in dumpsters because they need to be disposed of in very specific ways due to their toxicity or handling needs. Materials that are not allowed in dumpsters are chemicals, liquids, or special wastes.
More specifically, this list includes, but is not limited to:
Thirty and fifty-gallon drums
Tires
Oil
Batteries
Lead-based paint and household chemicals
Asbestos
Appliances
Fluorescent and incandescent bulbs
Computers
Other electronics.
Non-acceptable waste is under state regulation (as opposed to federal) and as a result varies from one area to another. Check your waste against the non-acceptable waste list for your area to make sure you are not breaking any laws.
The Benefits of Deconstruction
One of the most resourceful practices you can partake in when undertaking a home renovation project is deconstruction. This comprises skillfully taking apart the already built structure with the intention of reusing the materials instead of simply demolishing the area. There is real value in the adoption of this practice, some of which include:
Reducing dumping and demolition time (and fees!), making it very advantageous to the people deconstructing their sites as well as those that purchase the reusable materials. Oftentimes renovators are willing to throw out appliances or fixtures in good conditions, so their donations will save future builders the cost of buying those same fixtures brand new.
Generating tax savings from home or material donation, an added bonus for renovators interested in adopting this eco-friendly practice!
Lowering the fiscal load on taxpayers, due to the reduced energy and landfill burden. Instead of filling those landfills and wasting the precious allotted space, renovators that choose to deconstruct can help both the environment and their fellow citizens.
Creating more jobs. Because deconstruction takes more time and skill than simple demolition and cleanup it generates more jobs and more skilled career paths.
Providing materials for vocational training.
Enabling the architectural preservation of the building.
Providing more families, businesses, schools, and nonprofit organizations with an abundance of low-cost materials.
And the advantages of deconstruction don't end there!
Ultimately, deconstruction is invaluable to the preservation of our environment. In addition to the obvious benefit of recycling, deconstruction also allows for the reduction of greenhouse gas emissions from landfills and incinerators, the harmful effects of natural resource extraction and energy consumption to produce new building materials, and the need for more toxic landfills. Currently, C&D waste makes up over half of our nation's solid waste – deconstruction can greatly decrease this sad statistic.
To find out how you can deconstruct during your next renovation project you can look at Second Chance's website or call them directly on (410) 385-1700.
How You Can Contribute to a Clean, Healthy and Safe Environment
The debris you accumulate throughout your home renovation project can become an environmental hazard, as mentioned before, and can even turn into a potential safety hazard. The illegal dumping of this waste is considered a serious offense in most areas due to the health and environmental hazards and can lead to large fines and sometimes even a felony charge.
To keep your environment and neighbors safe and healthy (as well as avoid those fines!), there are some basic rules you can follow below.
If there is any type of waste you are unsure about disposing, call your local waste management; they are there to help and it is better to be safe than sorry!
When relying on the expertise of a company to dispose of the waste, make sure they are reputable and will adhere to the local regulations.
If you are removing the remodeling debris yourself, make sure to properly sort, load, and haul the waste before disposal.
Reducing the amount of waste produced can also help to protect the environment. You can decrease the amount of debris accumulated in your project by:
Getting a proper estimate of the construction materials you'll need for the project to avoid generating unnecessary waste
Reusing and recycling any old doors, bricks, or other fixtures that are in useable condition
Considering a renovation sale
Recycling whatever else you can – even reusing your old materials on site!
Designing your project wisely while working with your architect will also help to maximize existing space and materials. You can reduce packaging volume by requesting suppliers pack materials in reusable material, and by dismantling reusable materials instead of demolishing them.
Look into The ReUse People of America, an organization that reduces the amount of solid waste by salvaging building materials and redistributing them for reuse.
As a homeowner, it is good practice to do what you can to relieve your environment and community from any detrimental stress when undergoing a home renovation project! Simply making the effort to plan ahead, organize and minimize the amount of home renovation debris you generate can go a long way to achieving environmental sustainability and neighborhood bliss.