Best Dumpster Rental in Houston, Texas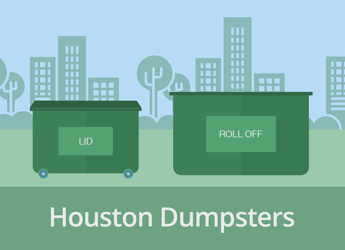 If you want a reliable Houston dumpster rental with competitive rates you are in the right place. There are many reasons to rent a dumpster, but only a few services that can actually get the job done properly. For residents, household renovations and major cleaning projections require a better system of waste disposal than typical curbside garbage pickup; in these cases, it is almost always better to contact a dumpster rental company and rent a dumpster for the extent of the project. When hiring a rental company, it is more important to rent from a reputable dumpster company in Houston with competitive pricing than a really cheap dumpster from a poor service.
A good dumpster company will be licensed and certified (check your local waste management office to know what qualifications are necessary to carry out the work), provide you with clean and safe dumpsters, do no damage to your property, dispose of your waste properly and legally, and have no hidden fees.
To find a reputable dumpster rental in Houston, first try to get recommendations from friends and neighbors or even call the local waste management company. Check reviews and speak to a company representative about the work that will be required. Always hauler – if you decide to go with a national chain and something goes wrong with your dumpster, your chances of making contact with a person are much lower. Before proceeding with a rental company, be sure to ask about weight limits, years of service, transport costs, disposal costs, and everything included in the quoted price.
The Importance of a Responsible Rental
In Houston, a violation of the solid waste laws is punishable upon first conviction by a fine of no less than fifty dollars or more than two thousand dollars. Each subsequent conviction is punishable by a fine of no less than two hundred fifty dollars and no more than two thousand dollars. Every day that any violation continues may be punishable as a separate offense. If you hire a dumpster company that violates this ordinance, you will be held responsible for paying all fines. Additionally, a disreputable company may cause you thousands of dollars in property damage and create unsafe conditions in and around the dumpster placed on your property.
When you have your dumpster be sure to always separate wet waste from dry waste and familiarize yourself with what items can and cannot be thrown into the dumpster. Also be sure to consider the state and local laws that may affect how you use or are able to use your dumpster, and check with your local Houston office if a permit is needed to rent a dumpster. Oftentimes you will need a permit depending on the type of dumpster, location of the dumpster, and the length of the rental period. Failure to obtain a permit when required will greatly slow down your attempts to rent a dumpster.
Houston Dumpster Rates
If you're wondering how much it will cost to rent a dumpster in Houston, the information below should make things a bit clearer. Included are recent quotes for roll-off dumpsters, which are regularly used in residential and construction scenarios. Dumpster rates for business are not featured here as waste management needs depend on each individual business. Organizations in Houston can receive business rates on their rental by discussing their waste needs with haulers directly.
Dimensions (L x W x H) :  approx.  16′ x 8′ x 4.5′
Suitable for:
Small kitchen or bathroom renovations, seasonal cleanouts, yard debris
---
Quote A
Rental Duration:  7 days
Weight Limit:  6,000 lbs
Price:  $419
---
Quote B
Rental Duration:  7 days
Weight Limit:  6,000 lbs
Price:  $489
Dimensions (L x W x H) :  approx.  22′ x 8′ x 4.5′
Suitable for:
Large scale basement cleanouts, office clear outs, construction and demolition debris for multiple room remodels
---
Quote A
Rental Duration:  7 days
Weight Limit:  4,000 lbs
Price:  $379
---
Quote B
Rental Duration:  7 days
Weight Limit:  4,000 lbs
Price:  $509
Dimensions (L x W x H) :  approx.  22′ x 8′ x 6′
Suitable for:
Property cleanouts, debris from large construction and demolition projects
---
Quote A
Rental Duration:  7 days
Weight Limit:  6,000 lbs
Price:  $439
---
Quote B
Rental Duration:  7 days
Weight Limit:  6,000 lbs
Price:  $419
Dimensions (L x W x H) :  approx.  22′ x 8′ x 6′
Suitable for:
Real estate cleanouts, large scale construction and demolition debris
---
Quote A
Rental Duration:  7 days
Weight Limit:  8,000 lbs
Price:  $569
---
Quote B
Rental Duration:  7 days
Weight Limit:  8,000 lbs
Price:  $529
Dimensions (L x W x H) :  approx.  22′ x 8′ x 8′
Suitable for:
Large residential projects, large industrial and commercial cleanups
---
Quote A
Rental Duration:  7 days
Weight Limit:  8,000 lbs
Price:  $589
---
Quote B
Rental Duration:  7 days
Weight Limit:  8,000 lbs
Price:  $549
Servicing Your Household Hazardous Waste
Household hazardous waste (HHW) is hazardous waste that can be found at a store – for example, bleach, paint, motor oil – as opposed to hazardous waste that is in the same category of substances as asbestos and explosives. Many Houston dumpster rental companies do not collect hazardous waste as part of their service. Thankfully, the Environmental Service Center (ESC) was opened with the intent of helping Houston residents dispose of their HHW more easily. The ESC has two locations:
North, located at 5614 Neches Street
And South, located at 11500 South Post Oak Road.
The North location is open on the second Thursday of every month between 9:00am and 3:00pm and the South location is open on Tuesdays and Wednesdays from 9:00am to 3:00pm and the second Saturday of every month from 9:00am to 1:00pm. A recent water bill must be shown as proof of residency. These facilities and services are free of charge.
Both locations provide a drive-through, drop-off site for residents to bring their HHW. Residents are not permitted to bring more than one hundred pounds of material and no individual item weighing more than fifty pounds. Other regulations include no more than twenty-five gallons of paint and five tires per resident per month. A complete list of accepted and not accepted items can be found at Houston's Solid Waste Management Department.
Every Friday from 9:00am to 12:00pm, household chemicals and paint that were disposed of in good condition are available for citizen reuse at the ESC South location. After signing a liability waiver, citizens may take these items away from the facility at no extra cost. There is a limit of six chemical items and a cartload of paint per week.
The city also holds B.O.P.A. (batteries, oil, paint [latex only], and acid) mobile collections periodically, also available on Houston's Solid Waste Management Department. These materials can also be disposed of at the Westpark Consumer Recycling Center at 5900 Westpark in Houston. This particular facility is open Monday through Saturday between the hours of 8:00am and 5:00pm. It is absolutely imperative that all hazardous materials – household or not – are disposed of properly. Improper disposal of hazardous materials can lead to various safety, health, and environmental problems.
General Waste Collection
Houston's Solid Waste Management Department offers weekly residential garbage collection, weekly yard waste collection, monthly tree and junk waste collection (alternating every month), curbside recycling, and dead animal collection. If this is not enough for your current waste needs then a Houston dumpster rental service will be useful. Additionally, there are six Type I landfills (accepts garbage and heavy trash for a fee), nine Type IV landfills (accepts only heavy trash for a fee), six neighborhood depositories (allows heavy trash, free to Houston residents), five recycling centers (free to Houston residents), and two environmental service centers (free to Houston residents). Further information on these centers, including telephone numbers, hours, addresses, and materials accepted, can be found on the Solid Waste Management Department page.
Dead animals can be scheduled for pickup by calling 311, the city's service line; a fee is charged for large animals. Residents are advised to never place a dead animal in general curbside trash.
Why Those Who Can, Recycle
Materials that can be recycled include newspaper, magazines, catalogs, phone books, used motor oil, plastic containers #1-#5 and #7, aluminum and tin cans, cardboard, and glass bottles and jars. The Waste Management Department Services requests that all cardboard is flattened and all containers rinsed and drained.
The city of Houston operates two curbside recycling programs, curbside and automated recycling. Curbside recycling uses an eighteen gallon green bin and automated recycling uses a ninety-six green bin, both of which must be placed at the curb for pickup after 6:00pm the day before and 7:00am on the day of the scheduled pickup. The container must be accessible to the pickup vehicle (i.e. not blocked by any other cars, hedges, etc.) and removed from the curb by 10:00pm on collection day.
Recycling Centers in Houston
Additionally, residents may dispose of their recycling at any one of the city's recycling centers or depositories. Residents must provide proof of residency, including a Texas driver's license, a current utility bill, or a city property tax receipt. These recycling centers are meant for residents only: materials that come in a commercial vehicle will not be accepted. Locations are open Wednesday through Sunday, except holidays, from 10:00am to 7:00pm. Residents are encouraged to arrive at least thirty minutes before closing to ensure all material is properly disposed of. The locations of these facilities are listed below.
| Location | Address | Telephone |
| --- | --- | --- |
| North Houston | 9003 N. Main | 713-694-8435 |
| Northwest Houston | 14400 Sommermeyer | 713-895-1002 |
| Northeast Houston | 5565 Kirkpatrick | 713-675-3208 |
| East Houston | 2240 Central Street | 713-847-1188 |
| South Houston | 5100 Sunbeam | 713-738-1936 |
| Southwest Houston | 10785 SW Freeway | 713-541-1953 |
The Westpark Consumer Recycling Center, located at 5900 Westpark, allows residents another option for recycling their used goods. The center is open Monday through Saturday between 8:00am and 5:00pm. In addition to the materials accepted at the other facilities, clean, Styrofoam blocks (plastic #6) are accepted at this facility.
Construction materials accounts for thirty-eight percent of the waste stream in Houston. If you end up with more materials than you anticipated when booking your dumpster rental in Houston, you can either extend your rental or dispose of the excess debris yourself at The Reuse Warehouse. This facility accepts materials from individuals, supply companies, and builders, and makes them freely available for reuse by any non-profit organization. It is located at 9003 North Main Street and can be reached by calling 311. The center is open between Tuesday and Friday from the hours of 8:30am and 4:30pm and every second and fourth Saturday of the month from 8:30am to 12:30pm. It is closed on Sundays and Mondays.