Junk Removal Services: A Worthy Dumpster Alternative?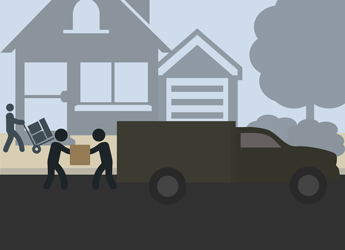 A junk removal service offers a more convenient way to dispose of your trash than using a dumpster. There are advantages and disadvantages that may affect your decision on using one or the other type of waste disposal service.
For example, rather than you having to figure out which size dumpster to use or put all the garbage into the container yourself you can hire a junk removal company to do all the hard work for you. This may come in handy if you have difficulty removing the junk yourself, particularly if you have large items such as furniture that cannot be easily removed.
The company will provide you with a quote for the cost of removing the junk and will arrange a day that is mutually convenient for them to dispose of your trash.
The advantage of this is that the trash is removed usually within a day without you doing most of the manual labor. Also, it removes the need for having a potentially unsightly dumpster sitting on your drive or street for up to a week or longer.
However, a dumpster does give you extra flexibility meaning you can take your time and remove the items at your own pace. You will likely also prefer a dumpster company over a junk hauling service if you do in fact need to store debris or trash in a container over a period of time. Likewise, if you are a construction company that's just done a demolition you can utilize the manpower you are already paying for by the hour rather than spending your money on outside help.
Your rented container can be delivered and picked up at a time that is convenient for you and will enable you to dispose of a lot of trash. This includes awkward items such as sofas and other large pieces of furniture lurking in your basement which you will need to remove yourself if you cannot find anyone to help you!
On the other hand, there are other things that you will need to consider before deciding whether to use a dumpster or garbage removal service. In terms of dumpsters, the unattractive container on the drive has already been mentioned. However, there are also restrictions on what you can actually dispose of using a dumpster. This of course is a disadvantage when you consider the breadth of items that junk removal services are able to recycle and dispose of correctly.
Trash Removal Experts
While it is difficult to get up-to-date statistics due to the way the Environmental Protection Agency collates them, the latest information on recycling is for the year 2009. In this year alone, the EPA estimated that 243 million tons of trash was generated and 82 million tons was either recycled or recovered and composted. Interestingly 29 million tons of that trash was recovered and used for energy recovery.
With so many amazing recycling programs becoming ever more prevalent in the United States and with more and more recycling bins being issued to households, the recycling figures do appear to be improving each year. There does remain however, a lack of understanding about the most sustainable way to remove our waste.
For this reason junk removals can often be the better option. They are equipped with the right knowledge of which types of your trash could be reused by individuals, businesses or organizations nearby. With such expertise they can reduce the risk of your waste materials polluting the environment by diverting them from landfills.
Of course, if you already know which of your garbage items can be disposed of and recycled, or the places where they would be accepted for reuse, that is all the better. The more people are equipped with this knowledge, the more it helps to reduce waste to landfill, increase recycling and possibly conserve more energy from our waste in a less detrimental way.
We are certainly in a world where the environment and sustainability is becoming increasingly important. This is why most garbage removal services will seek to recycle as many of the items that you have thrown away as they can! The great part of course is that they will take away most items, including hazardous waste such as lithium batteries although you will find that the removal company will more than likely charge you extra for this privilege.
The fantastic thing about trash removal companies is that they can be really good at knowing what specific garbage items can be recycled and have a decent understanding of where the more unique items can be taken. Unfortunately, when we dispose of our own junk, we don't always have the best knowledge of how to dispose of the materials in a manner that is environmentally-friendly.
That doesn't mean everyone doesn't want to protect their environment. It simply means that more education and initiatives are needed to empower individuals, homes and businesses to be more resourceful with their waste materials, thereby encouraging environmental sustainability.
Televisions and computer monitors are a prime example of items that frequently get dumped at landfill sites. An accountable and professional removal company will seek to dispose of these sorts of items in a way that is responsible and indeed sustainable. Many people, for example, do not know how to dispose of metals and plastics, which supports the case for reducing and reusing materials as opposed to the conventional waste management approach.
Comparing Prices
Booking a dumpster service usually means that you have to pay for the weight of your rubbish in addition to the cost of the rental. Indeed, some companies insist that you pay for the whole container despite the fact that you may not fill it.
The dumpster method also means that you will have to spend your own valuable time and put yourself and property at risk of injury loading your unwanted items into the container. If you consider that this can be done for you and is included in the quote that a junk-hauler will give you before arriving to take your trash away, then junk removals may in fact prove to be the cheaper and even safer option to use.
However, there seems to be an increasing number of companies offering budget style rentals which may be convenient in terms of cost. Most dumpster companies and junk removers will not accept hazardous waste, and those that do will charge you significantly more for the privilege to cover their prohibitive tipping fees for such substances. So, this is another point worth considering particularly if cost is a determinant factor.
Overfilling the dumpster can also attract extra charges so it is important to find out whether the amount of waste you need to dispose of will comfortably sit in your delivered container.
Removal services will of course vary in pricing. While most removal companies appear, or market themselves to be sustainable, there are services which place a particular emphasis on environmental protection.
These green (or eco-friendly) businesses, as many of them are known take measures to ensure that their operations have minimal negative impact on mother earth. For example, they can enable old furniture to be reused by donating it to charitable organizations.
Quotes from junk-haulers will normally include removal of rubbish and similar to dumpster services, an additional charge for handling hazardous items. Overfilling a dumpster can be very unsightly and attract unwanted visitors, which is the last thing you or your neighbors want!
Recycling Your Junk
It seems quite clear that hiring a reputable, experienced and knowledgeable junk removal company is more sustainable and therefore more environmentally-friendly for everyone.
The key difference is that the people who will remove your junk will know exactly how to reuse or dispose of your junk without compromising the ever increasing fragile environment.
Education on waste disposal is definitely having an effect to some degree when you consider the vast improvements in recycling. The recycling bins that are now a familiar site on many driveways around the country also demonstrates the milestone that has been reached in reducing waste to landfill.
Also, the presence of recycling programs in many communities definitely highlights the commitment that many people have made to disposing of their waste responsibly.
Whilst it may seem more convenient to leave a container on your drive that you can fill at your own pace, unless you know what you can dispose of carefully and indeed confidently, a green removal company will do it the right way, and fast.
The waste being dumped in landfills has to be reduced; there is no doubt about that. Yes, statistics are showing improvements in recycling rates but there is certainly a lot more that needs to be done. It is hard to find out how many people across the country fully understand the benefits of using professional junk removers rather than a dumpster service to dispose of their trash.
The hands-on approach of a junk removal service lends itself to taking greater care with the handling of waste materials. Conversely, the mass trash-hauling method of a large container rental is prone to hazardous junk and debris leaking through the cracks and into places they shouldn't go.
However, this becomes less of an issue when a responsible dumpster company is used. In this case, trash will be processed with the necessary care, ensuring reusable or recyclable items are properly organized and distributed.
Based on these observations, there are genuine reasons why one might prefer either type of service over the other.
Best Option Overall?
As you can see, there are pros and cons to both types of waste services. However, it is likely that many homes and businesses looking for a temporary removal solution will view the more attractive option as having their junk removed by professionals rather than doing it themselves. In this case, you can usually get a removal team on the job very quickly, sometimes even within the hour. You don't have to move any items at all. Simply guide them in the direction of your garbage and they will take care of the rest for you.
More importantly, their experience handling trash goes some way in ensuring that your junk will not be disposed of in a careless way that could harm the very community you live in.
On the other hand, some businesses and institutions may possibly prefer to have a container for consistent storing and collection of their trash.
Either way, the environment cannot be sustained if attitudes towards waste don't continue to improve. If we are all more considerate in our thoughts about waste then there is no doubt that this would have a positive impact on our communities and environment, or at least less of a harmful one.
It may not seem like a big thing but if you don't know how to dispose of the materials you no longer need in the responsible way, then leave it to the experts. As long as you are using an environmentally-responsible and accountable dumpster or junk removal company you can be sure your trash will be properly taken care of.