Best Dumpster Rentals in Miami, Florida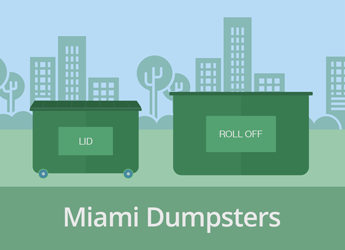 Using a Miami dumpster rental can save you lots of time and money when compared to other types of waste disposal. The perfect time to rent a dumpster in Miami if you're a homeowner or renter is when projects around the house start creating too much waste to fit neatly into your household garbage can. Even if you're a business, renting a dumpster can seem overwhelming but it can often save a whole lot of stress in the long run.
Your first step is to find a dumpster rental in Miami that you can rely on. One option is to reach out to friends and neighbors for a word of mouth recommendation – it is always best to hire a company that you are already familiar with to some extent. If that is not an option, call your local waste management office for recommendations. Check the reviews for each company you speak with and be sure to choose one that you can depend on. Always choose a local company for your needs – a national chain might not always be available to help you with last minute concerns requiring immediate physical assistance.
Qualities of a Recommended Dumpster Service
A dependable Miami dumpster company will have all permits and licenses required by the official local waste management office, answer any and all questions you have about your dumpster needs, and provide you with safe and reliable waste transport. Never trust a company that provides you with a rickety dumpster or that attempts to charge you fees that were not included in the original rental quote. Be sure to understand all policies regarding the dumpster, such as what is and is not allowed in the dumpster and potential fees. Some additional costs that are typically incurred are for fees associated with a prolonged rental, transportation, and overage charges.
Keeping a dumpster on your property will, in most areas, require a permit. To obtain this permit, you can either contact your local permit office or ask your rental company if they will obtain the permit for you. Be aware that any unlawful dumpster placement or waste disposal fees – and possible criminal charges – will be your responsibility. Always put the waste inside the dumpster and be sure to leave nothing hanging over the edges or leaking out of the container. The dumpster should only be used for containing the accepted waste and should not be moved once it has been dropped off by the rental company.
Dumpster Rental Prices in Miami
There are generally two types of dumpster you can rent based on the kind of waste that the dumpster is made for – one for property or household debris and one for food and general mixed wastes that include more organic materials. The most commonly rented dumpster by contractors and residents undergoing home cleaning or remodeling projects is a roll-off dumpster. Roll-off containers for the most part come in the sizes 10 to 40 yards, although there are some 8 yards in size. To get an idea of how much roll-off dumpsters cost in Miami, the information below includes recent quotes customers have received for the various dumpster sizes.
Dimensions (L x W x H) :  approx.  12′ x 8′ x 4′
Suitable for:
Seasonal cleanouts, small bathroom or kitchen renovations, garage cleanouts
---
Quote A
Rental Duration:  14 days
Weight Limit:  3,000 lbs
Price:  $369*
---
Quote B
Rental Duration:  14 days
Weight Limit:  4,000 lbs
Price:  $299**
Dimensions (L x W x H) :  approx.  16′ x 8′ x 4.5′
Suitable for:
Small kitchen or bathroom renovations, seasonal cleanouts, yard debris
---
Quote A
Rental Duration:  14 days
Weight Limit:  5,000 lbs
Price:  $399*
---
Quote B
Rental Duration:  14 days
Weight Limit:  6,000 lbs
Price:  $375**
Dimensions (L x W x H) :  approx.  22′ x 8′ x 4.5′
Suitable for:
Large scale basement cleanouts, office clear outs, construction and demolition debris for multiple room remodels
---
Quote A
Rental Duration:  14 days
Weight Limit:  7,500 lbs
Price:  $459*
---
Quote B
Rental Duration:  14 days
Weight Limit:  8,000 lbs
Price:  $399**
Dimensions (L x W x H) :  approx.  22′ x 8′ x 6′
Suitable for:
Real estate cleanouts, large scale construction and demolition debris
---
Quote A
Rental Duration:  14 days
Weight Limit:  12,000 lbs
Price:  $559*
---
Quote B
Rental Duration:  14 days
Weight Limit:  12,000 lbs
Price:  $499**
Dimensions (L x W x H) :  approx.  22′ x 8′ x 8′
Suitable for:
Large residential projects, large industrial and commercial cleanups
---
Quote A
Rental Duration:  14 days
Weight Limit:  12,000 lbs
Price:  $620*
---
Quote B
Rental Duration:  14 days
Weight Limit:  12,000 lbs
Price:  $599**
* Price includes rental period, delivery fee, pickup fee, and applicable taxes
** $45.00/ton of additional weight
Businesses can rent roll-offs or general trash dumpsters also, although accurate pricing for Miami dumpster rentals is usually best obtained by speaking to a waste management company directly.
Miami Garbage Service
The Miami-Dade County Public Works and Waste Management Department provides waste collection to over 320,000 households in the area. Each household is given a ninety-six gallon green container to hold all household garbage as well as yard waste (grass, leaves, and clippings). The container must be put on the curbside by 7:00am on collection day and brought in after it has been collected.
Residents should ensure that all waste fits neatly inside the container, the container itself is clean, and the lid is closed securely. Rocks, dirt, construction debris, flammable materials, or household hazardous waste should not be put inside the container – such items (excluding flammables and hazardous trash) are better serviced by renting a roll-off dumpster.
Before you place items in your garbage can, ask yourself if the items can be donated, reused, or recycled. It is very important to diminish the amount of waste being produced in the Miami area and each individual residence can make a difference.
Disposing of Bulky Trash
Bulky waste collection is also made available to residents with or without a rented dumpster. Residents can call 311 to schedule an appointment with the local waste management – trash should be placed at the curbside adjacent to your residence within ten feet of the street and at least five feet from other objects (mailboxes, parked cars, etc.). Residents are allowed three bulky waste pickups per calendar year and have a total of waste not exceeding fifty cubic yards for collection.
If you have exhausted your bulky waste pickup allowance for the year, you can visit one of the trash and recycling centers in the county, which is listed at Miami-Dade County. Items not allowed at the center include tires larger than forty-eight inches, rocks and dirt, liquids, oil-based paint, household chemicals, auto parts, fiberglass, and any single item weighing more than 150 pounds. The centers are open daily from 7:00am to 5:30pm year round, with the exception of Dr. Martin Luther King, Jr. Day, Independence Day, and Christmas Day.
Types of Waste to Keep out of Dumpsters
If you urgently need to discard of your bulky trash or other debris then a dumpster rental in Miami will be of great service to you. However, household hazardous waste (HHW) is waste that cannot be disposed of by renting a dumpster in Miami, pouring it down the drain or placing it in curbside recycling bins. You'll likely have come across HHW at some point in time. It is waste that can typically be bought at many stores – bleach, light bulbs, batteries, etc. – but cannot be disposed of with other household garbage. Hazardous wastes (not to be confused with HHW) are items that are generally not sold in stores – for example, fireworks and asbestos. They calso cannot be discarded amongst household garbage.
The Home Chemical Collection Centers accept these hazard types of waste that you cannot put in a dumpster, including complete fluorescent light bulbs, pesticides, pool chemicals, oil-based paints, solvents, and electronic waste, as well as propane and oxygen tanks. The Centers are located at 8801 NW 58th St and at 23707 SW 97th Avenue Gate B and are both open between Wednesday and Sunday from 9:00am to 5:00pm.
The Chem-Again program is open to all residents over the age of 18 and offers new or almost new home chemical products collected at the Home Chemical Collection Centers. Individuals will be asked to sign a release form thereby agreeing to use these chemicals for residential purposes only.
To minimize the improper disposal of syringes, needles, and other sharp medical items, the Miami-Dade County Health Department has established a program that enables home users to dispose of their sharp objects at the following facilities for free: West Perrine Clinic (18255 Homestead Ave), Downtown Center (1350 NW 14th St), and Environmental Health and Engineering (1725 NW 167 St). All centers are open Monday through Friday between the hours of 8:00am and 5:00pm.
No Hassle Recycling
When you rent from a top Miami dumpster company who offers recycling you can rest assured that you're doing your bit to keep your local community in good shape. Curbside recycling is also provided to residents, even in secluded parts of Miami-Dade County, as well as the following twenty-one municipalities (in no particular order): Florida City, West Miami, Doral, Cutler Bay, Medley, Aventura, Miami Beach, Surfside, Pinecrest, Sunny Isles Beach, Miami Lakes, El Portal, Opa-locka, Miami Springs, Virginia Gardens, Palmetto Bay, North Bay Village, South Miami, Miami Gardens, North Miami Beach, and Richmond Heights.
Households in these areas receive a sixty-five gallon blue container for every-other-week recycling. All carts should be placed on the curbside by 7:00am on the specified recycling day within three feet of the street and at least five feet from other objects (mailboxes, parked cars, etc.). The wheels of the cart must be facing away from the street.
Items You Can Recycle
In the second quarter of 2014, the Miami-Dade County recycled 1,693 tons of cardboard and paper; 4,210 tons of newspaper; 1,486 tons of mixed paper; 197 tons of tin cans; 1,152 tons of plastics; 91 tons of aluminum; and 1,410 tons of glass.
Materials allowed in recycling dumpsters and containers include paper products, cardboard, narrow-neck plastic containers, aseptic containers, glass, and metals. Items that are not allowed in the containers are non-recyclable garbage, batteries, certain glass products, plastic bags, home chemicals, medical waste, electronic waste, and empty propane or oxygen tanks. For a complete list of what is and is not accepted, residents are encouraged to visit the residential recycling section of the Miami-Dade website. If you do not have access to curbside recycling or have a particularly heavy flow of recyclable materials, visit one of the recycling facilities listed above. For any questions or concerns regarding your recycling needs, call 311 to speak to a local representative.
More Ways to Lower Your Dumpster Costs
There are plenty of options available to recycle any of the qualified items you wish to dispose of using a reliable Miami dumpster rental. However, there are still plenty more ways in which you can maintain a clean, healthy and safe environment. For example, you can reduce your carbon footprint by, firstly, being more aware of the products you purchase. Buying items secondhand will reduce both the energy and natural resources needed to create brand new products, which also means less items ending up as trash. You can also consider more closely how the products you purchase are packaged and only buy items in bulk.
Consider carpooling or biking, fixing leaky faucets, using heat and air conditioning less, powering down all of your electronics each night, and have a meatless meal once each week – did you know that it requires 2,500 gallons of water to produce just one pound of beef?
In addition to buying your own items secondhand, you could donate the items you no longer use. Instead of throwing your old sweaters in the garbage, bring them to a local Goodwill or clothing drive to give another person the chance of buying secondhand. You can also donate electronics, appliances, books – the list is endless. As they say, one man's trash is another man's treasure. For more ideas on becoming greener get involved with your community's recycling program.