Nashville Dumpster Rentals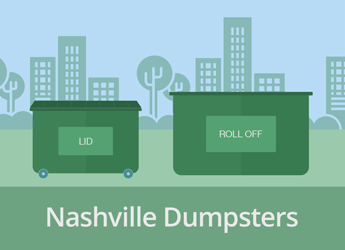 Booking a Nashville dumpster rental service will save you the hassle of figuring out how to transport all the waste and where to dispose of it yourself. As a common example, home renovation or major cleaning projects can get expensive fast – one way to cut costs would be to rent a dumpster for the duration of your project. When planning projects, people often forget about the waste they will produce and that they need a financially feasible and legal way to get rid of all the waste.
Many Nashville dumpster rental companies typically have 10-yard dumpsters (suitable for residential cleanouts), 20-yard dumpsters (useful for larger cleanouts such as estate sales), 30-yard dumpsters (ideal for garage demolitions and bathroom remodeling), and 40-yard dumpsters (best for new construction or demolition). A representative from any reliable dumpster company will be able to determine your needs based on your project.
Bulk Pickup
There is also the option of curbside bulk removal which occurs once every thirty days in Nashville. However, with this method of waste removal items such as tires, empty paint cans, dirt, sand, or lumber will not be picked up. Additionally, curbside pickup will not allow more than twelve items for each residential address.
Placing Your Dumpster on Public Property
If the bulk pickup does not fit your needs and you still find yourself wanting to rent a dumpster, keep in mind that you will need a permit to place it in the public right of way – i.e. on a city street or sidewalk. The current cost is $55 for up to five days and then each day is $10 per day for every day over the five. If you are placing your dumpster on private property, you generally will not need a permit but it would be prudent of you to check with your local waste management or local permit office before making any assumptions. No yard waste, cardboard, or e-waste is allowed in a commercial dumpster as per Nashville's regulations. Additionally, dumpsters generally do not accept household hazardous waste, scrap tires, sealed barrels, and debris containing asbestos.
Always place your dumpster on a concrete or asphalt surface (never dirt) to prevent any waste mixing into the soft ground. Never move your dumpster after the company has placed it on your property and be sure to fill it evenly throughout the container, being careful to also never overfill your dumpster. It is important to become familiar with the dumpster regulations and guidelines before placing your waste in a dumpster so you do not get fined or, worse, get charged with a crime.
Dumpster Rates in Nashville, TN
The table below will give you an idea of how much Nashville dumpster rentals cost and what you can expect to pay for different types of roll-off dumpsters.
Dimensions (L x W x H) :  approx.  12′ x 8′ x 4′
Suitable for:
Seasonal cleanouts, small bathroom or kitchen renovations, garage cleanouts
---
Quote A
Rental Duration:  14 days
Weight Limit:  4,000 lbs
Price:  $299*
---
Quote B
Rental Duration:  7 days
Weight Limit:  2,000 lbs
Price:  $275**
Dimensions (L x W x H) :  approx.  16′ x 8′ x 4.5′
Suitable for:
Small kitchen or bathroom renovations, seasonal cleanouts, yard debris
---
Quote A
Rental Duration:  14 days
Weight Limit:  6,000 lbs
Price:  $325*
---
Quote B
Rental Duration:  10 days
Weight Limit:  6,000 lbs
Price:  $299**
Dimensions (L x W x H) :  approx.  22′ x 8′ x 4.5′
Suitable for:
Large scale basement cleanouts, office clear outs, construction and demolition debris for multiple room remodels
---
Quote A
Rental Duration:  14 days
Weight Limit:  20,000 lbs
Price:  $389*
---
Quote B
Rental Duration:  10 days
Weight Limit:  6,000 lbs
Price:  $359**
Dimensions (L x W x H) :  approx.  22′ x 8′ x 6′
Suitable for:
Real estate cleanouts, large scale construction and demolition debris
---
Quote A
Rental Duration:  14 days
Weight Limit:  16,000 lbs
Price:  $429*
---
Quote B
Rental Duration:  10 days
Weight Limit:  10,000 lbs
Price:  $399**
Dimensions (L x W x H) :  approx.  22′ x 8′ x 8′
Suitable for:
Large residential projects, large industrial and commercial cleanups
---
Quote A
Rental Duration:  14 days
Weight Limit:  10,000 lbs
Price:  $420*
---
Quote B
Rental Duration:  10 days
Weight Limit:  10,000 lbs
Price:  $409**
* Price includes rental period, delivery fee, pickup fee, and applicable taxes
** $50.00/ton of additional weight
Local businesses and institutions in Nashville can rent dumpsters that are smaller than 10-yards. As the needs for these smaller types of dumpsters are more varied and permanent in duration, customers are advised to speak to haulers directly for more accurate pricing and terms on small dumpster rentals. In general, however, businesses can expect to receive favorable rates due to the more permanent nature of business dumpster rental.
General Trash Collection
Before opting for a Nashville dumpster rental service, you should consider if your waste can be accommodated by the public waste collection service. General trash collection is provided to single family residences within the City of Nashville; each residence is given one brown container for curbside trash removal. These containers are strictly for household waste and yard waste and cardboard cannot be placed in them.
From July 1, 2015, e-waste will not be allowed to be put in the containers, either. Place bagged trash inside of the container and put the container at the curb or in the alley on collection day at least three feet from any stationary object. Your collection day will be listed on the lid of your container but if it is not, call (615) 880-1000. An additional ninety-six gallon container can be purchased for $46.50. Trash will be picked up anytime between 7:00AM and 5:00PM; residents are asked to remove their containers from the curb by 7:00PM of collection day.
If there is additional trash, residents can call (615) 862-8750 to schedule a bulk pickup or visit any one of the following residential waste facilities:
East Center at 943A Doctor Richard G. Adams Drive (open Monday through Saturday from 7:30AM to 5:00PM and Sundays 12:00PM to 4:00PM)
Omohundro at 1019 Omohundro Place (open Tuesday through Saturday 8:00AM to 4:30PM)
Anderson Lane Center at 939A Anderson Lane (open Tuesday through Saturday 8:30AM to 5:00PM).
These centers are closed on New Year's Day, Martin Luther King Day, Presidents Day, Memorial Day, Independence Day, Labor Day, Thanksgiving Day, day after Thanksgiving, Christmas Eve, and Christmas Day.
All facilities only accept residential trash; no commercial waste will be received. There is a limit of two visits per day Monday through Saturday and a limit of one visit each Sunday. For loads over three items large, there will be a charge. A list of charges as well as a complete list of what can and cannot be brought to the facilities can be found at Nashville Residential Waste and Recycling. There is no charge for recyclable items, which are accepted at the East Center only.
Discarding Hazardous Waste
Hazardous waste cannot be collected nor processed via dumpster rental in Nashville. Residents are asked to bring household hazardous waste (HHW) to Nashville's Household Hazardous Waste and Electronic Waste Facility located at the East Waste and Recycling Center (943A Doctor Richard G. Adams Drive). Residents can bring up to fifteen gallons or one hundred pounds of HHW and one computer system each month. There is no fee to drop off any HHW or e-waste at this facility.
As of January 1, 2014, latex paint is not accepted at the facility. Proper ways of disposing of latex paint include donating it, giving it to somebody in need, storing it for future use, or drying it out – never pour it down any drain. Acceptable HHW includes car wax and cleaners, drain opener, flea collars, gasoline, motor oil, shoe polish, and weed killer, among others. Unacceptable items include ammunition, explosives, and any medical waste. Electronic waste, or e-waste, includes CD players, cell phones and batteries, scanners, computers, and more.
To safely dispose of unused or expired pharmaceuticals such as prescriptions, inhalers, pet medication, and pills in any packaging, residents can visit any one of six police precincts, Monday through Friday from 8:00AM to 4:30PM: North, South, East, West, Hermitage, and Madison, or the Central Precinct seven days a week from 8:00AM to 8:00PM. Items not accepted include illegal drugs, IV bags, and thermometers, among others. You can find a complete list of precinct addresses on the City of Nashville mentioned previously.
Recycling Accepted
As with household trash, the City of Nashville collects the recycling waste of single-family residential homes. Each address is given a ninety-six gallon green container. The containers will be picked up monthly – to find out your collection day, call (615) 880-1000. On collection day, place your container where you normally place your trash container for trash collection day and it will be picked up between 7:00AM and 5:00PM. Residents are asked not to bag their recyclables.
Most, if not all, Nashville dumpster rental services will also collect and process your recyclable waste materials. Items allowed in the recycling containers include all paper and boxes, all plastic containers, and all metal and aluminum cans. Please rinse all containers and cans and flatten any boxes or other material you can. Items do not need to be separated before being placed in the bin. Materials not accepted in the carts include soiled items such as pizza boxes or plastic bags, Styrofoam, and glass. Glass bottles may instead be recycled at a recycling drop-off center. Nashville has twelve recycling drop-off centers in total, showing a real desire for environmental sustainability.
If you find yourself unable to participate in any of the Nashville recycling programs, there are plenty of alternatives you can put into practice. For example, simple things such as taking shorter showers, unplugging your appliances before going to bed or leaving the house, and donating your used items instead of throwing them in the trash. Additionally, you can start buying your items secondhand, purchase things in bulk, and stop throwing away your dryer lint (if you leave it in your yard, birds will use it to feather their nests!).