Dumpster Rental in Phoenix, Arizona – Only the Best Will Do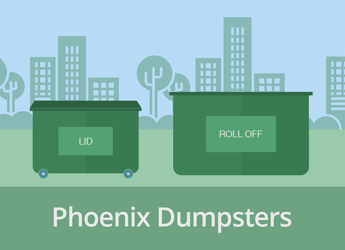 Get the best dumpster rental in Phoenix, AZ! Renting a dumpster can be tricky business if you don't know what you're doing. For example, it is important to follow all rules and regulations associated with the rental; finding the right rental company can help you with that.
The obvious route to getting a highly satisfactory Phoenix dumpster rental service is to only call haulers with good reviews while making sure that the dumpster you eventually receive is not faulty in any way. As a guide, the container should be able to house all of your debris without leaking waste, buckling, or otherwise falling apart when being properly loaded with trash.
Dumpsters need to be placed on hard, flat surfaces (think asphalt instead of dirt) and cannot be moved once they are placed by the delivery truck, so be sure to find the ideal location before asking for it to be unloaded.
A reliable dumpster service will be upfront about all fees associated with pickup and removal (included taxes, overage charges, and other such fees), deliver and remove your dumpster on time, and help you find the right dumpster for your needs. While it may be easier to find a big removal company such as waste management, you should also consider calling local companies; especially if you would like to deal with someone that is a part of your community – the community that will ultimately be affected by good or bad waste management practices.
Why Getting the Right Dumpster Service Matters
A dumpster company that adheres to poor waste management principles can ruin your day in any number of ways, from damaging your driveway to slamming you with ridiculous fees at the end of your rental period. The bottom line: a bad dumpster company is going to cost you money and possibly even affect your stress-levels.
Look for companies that have been around for a good amount of time and that have good reviews. Be wary of haulers that put low limits on their dumpsters or don't even list tonnage: dumpsters get weighed at the landfills, so while you walk away thinking you spent $250 on a dumpster, you could get charged hundreds of dollars more for the total weight of debris you disposed of.
The type of service you don't want is one that uses careless methods to dispose of your trash. For example, you wouldn't want a company that neglects health and safety standards or that neglects the maintenance of your home environment. Such a service can crack the asphalt in your driveway, leave tire marks on your lawn, or spill debris and leave a mess on your property.
The list of things that can go awry with dumpster rentals is quite long, so be sure to do your homework and only choose a qualified company using references and reviews.
Costs to Rent a Dumpster in Phoenix
Just like with any rental, you'll likely want to get the best bang for your buck and keep your expenses as low as possible. Depending on your requirements, dumpster rates will vary in price. Here are some quotes customers have received lately for roll-off dumpster rentals in Phoenix:
Dimensions (L x W x H) :  approx.  12′ x 8′ x 4′
Suitable for:
Seasonal cleanouts, small bathroom or kitchen renovations, garage cleanouts
---
Quote A
Rental Duration:  14 days
Weight Limit:  2,000 lbs
Price:  $269*
---
Quote B
Rental Duration:  14 days
Weight Limit:  3,000 lbs
Price:  $260
Dimensions (L x W x H) :  approx.  16′ x 8′ x 4.5′
Suitable for:
Small kitchen or bathroom renovations, seasonal cleanouts, yard debris
---
Quote A
Rental Duration:  14 days
Weight Limit:  3,000 lbs
Price:  $299*
---
Quote B
Rental Duration:  14 days
Weight Limit:  4,000 lbs
Price:  $275
Dimensions (L x W x H) :  approx.  22′ x 8′ x 4.5′
Suitable for:
Large scale basement cleanouts, office clear outs, construction and demolition debris for multiple room remodels
---
Quote A
Rental Duration:  14 days
Weight Limit:  4,000 lbs
Price:  $319*
---
Quote B
Rental Duration:  14 days
Weight Limit:  6,000 lbs
Price:  $300
Dimensions (L x W x H) :  approx.  22′ x 8′ x 6′
Suitable for:
Real estate cleanouts, large scale construction and demolition debris
---
Quote A
Rental Duration:  14 days
Weight Limit:  6,000 lbs
Price:  $359*
---
Quote B
Rental Duration:  14 days
Weight Limit:  8,000 lbs
Price:  $399
Dimensions (L x W x H) :  approx.  22′ x 8′ x 8′
Suitable for:
Large residential projects, large industrial and commercial cleanups
---
Quote A
Rental Duration:  14 days
Weight Limit:  8,000 lbs
Price:  $399*
---
Quote B
Rental Duration:  14 days
Weight Limit:  10,000 lbs
Price:  $409
* Price includes rental period, delivery fee, pickup fee, and applicable taxes
The biggest factors in determining the cost of a dumpster will be your location and the amount of debris you need to remove. Additionally, each landfill and city municipality will have different fees and taxes associated with dumpster rental so keep in mind that you are comparing the same fees when calling around to various companies. In many cases, you will only need a permit if the dumpster is going to be located away from your private property (for example, on the street in front of your house), but this may vary with the type and size of dumpster you wish to rent. You can straighten this issue out with your local permit office.
Of course you may prefer to rent a smaller front or rear-loading dumpster rather than a roll-off. These types of dumpsters are ideal if you are looking for a more permanent waste management solution for your business or home. The best way to get an idea of costs is to call service providers directly as quotes for this type of rental tend to vary a lot more than roll-off rates.
When You'll Need a Roll-off Dumpster
The primary uses for a roll-off dumpster are large cleaning projects and for clearing up debris from construction and demolition jobs. These situations include garage clean outs, spring cleaning projects, yard waste removal, bathroom remodeling, roofing projects, and window replacements, among others.
When using a roll-off dumpster, it's vital that you get a safe and reliable dumpster and that you use it properly. The most important step in securing a roll-off dumpster is ensuring that you get the right size dumpster with the appropriate weight limits: you may have a small amount of debris and think that means you should get a small dumpster, but it is necessary to check the weight limit of the dumpster – oftentimes you will be charged extra for exceeding your weight limits. Estimating how much waste you will generate can be tricky, so be sure to call a number of Phoenix dumpster rental companies to get some free advice while comparing quotes.
Waste Disposal Rules
There are two main transfer stations in Phoenix: the North Gateway Transfer Station (open weekdays 5:30AM to 5PM and Saturdays 6AM to 3PM) and the 27th Avenue Transfer Station (same hours as North Gateway). North Gateway is located at 30205 N. Black Canyon Highway and the 27th Avenue Station is located at 3060 S. 27th Avenue; questions for either station can be directed to (602) 262-7251.
A Phoenix resident paying full monthly refuse/trash fees may receive disposal on one load of up to one ton each calendar month at no charge provided he presents a copy of his water bill proving an active account and a photo I.D. with name and address matching the aforementioned bill. The load must be properly enclosed, covered, or secured to prevent the spilling or blowing of solid waste from the vehicle; failure to comply with this will result in a $20 unsecured load fee.
Residents' loads exceeding one ton will be required to leave a deposit and weigh out after dumping; the customer must pay the current gate rate of $38.25/ton for any material disposed in excess of one ton. Materials at these stations include regular household garbage, green waste (tree trimmings, branches, wood, weeds, etc.), and appliances and large items. Items containing Freon, such as refrigerators and air conditioners, must be evacuated, have the compressor removed and get tagged prior to the disposal.
The City of Phoenix collects curbside trash. When setting your trash outside, make sure that your recycling and trash containers are at least four feet apart (helps prevent trucks from knocking the containers over), all trash is bagged and tied to prevent rodent and insect infestation, lids are secured, and all bins are outside by 5:30AM of recycling day. Do not put household hazardous waste, construction materials or concrete in the bins. Be sure to also keep the collection area trimmed and free of weeds and never overload your bins. If you live in an area that does not offer curbside pickup, you will need to dispose of your household garbage in a Waste Disposal and Recycling Center.
Hazardous Waste Services for Residents
In 1976, Congress passed a law that requires careful disposal of household, municipal, and commercial and industrial waste called the Resource Conservation and Recovery Act (RCRA). Its goals are to conserve energy and natural resources, reduce the amount of waste generated, and ensure that wastes are managed to protect human health and the environment. The regulations apply to landfills housing municipal solid waste, disposal facilities with hazardous waste generators, treatment, and storage, as well as underground tanks where hazardous materials are stored.
This law requires that hazardous waste be disposed of in a very specific way and prohibits it from being mixed with regular solid waste at a landfill. This also applies to Phoenix dumpster rentals. Residential hazardous wastes are leftover household items that are made from ingredients considered reactive, toxic, corrosive, or ignitable. Products such as batteries, cleaners, paints, oils, and pesticides require said specific disposal because they potentially contain such hazardous ingredients. As this list is a very general one of hazardous waste, it is important to call your local waste management or dumpster company to determine all the hazardous waste items for disposal you may have.
Dumping hazardous waste illegally will result in fines and possibly even a felony charge, not to mention the severe contamination it would cause. Household Waste Events are scheduled once a month and are only open to Phoenix residents. Residents dropping off household hazardous waste (HHW) are required to bring a city services bill and a matching photo I.D. to prove residency. Non-hazardous materials brought to these events will be sorted and disposed of accordingly. No medical waste, radioactive waste, large residential quantities, explosives, or commercial loads will be accepted. Also, each resident can dispose of no more than five over-the-road-tires; tires that are too big or from tractors will be allowed. If you need to dispose of hazardous waste and cannot make it to one of the scheduled events, call your local waste management for direction on when and where you can bring your waste.
Your Recyclables
Blue recycling containers are collected by the City of Phoenix each week; if you live in an area not serviced, recycling drop-off sites are designated for recycling removal. Items allowed for recycling include paper, plastic, metals (no hazardous wastes!), and glass. If you are unsure of an item's eligibility for recycling, call your local recycling center and ask. The best Phoenix dumpster rental services will happily make arrangements to recycle your debris, so be sure to consider this when comparing companies in your area.
By dropping non-recyclable items in the recycling bin, you contaminate the entire load and make it non-recyclable – in 2009, contamination alone cost the city approximately $722,000. The EPA estimates that 66% of the trash we throw away each day can be recycled; nationally, only about 25% of that is actually recycled. In addition to curbside recycling, Phoenix also runs a Christmas tree recycling program, composting and mulch programs, election sign recycling, and has recently started a Green Organics Curbside Collection Program as well as Save-As-You-Reduce-And-Recycle (SAY R&R).
The Green Organics program provides a tan garbage can that provides curbside pickup for yard waste such as leaves and tree branches and the SAY R&R program offers residents that currently have a curbside trash pick-up service the option to downsize their current large trash container to a medium trash container for monthly savings of $3 on their solid waste services bill.