Recycling Plastic Waste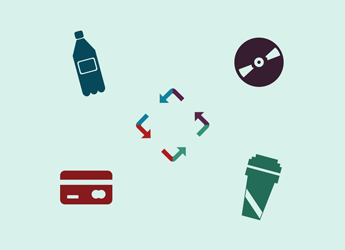 Defining Plastics
Plastics are a major part of our lives in the everyday products we use from containers, furniture, toys, and even beauty products. Because plastic exists in so many places, it is important that plastic waste is managed through recycling. Reports have shown that plastics make up close to 13% of a city's waste; this is much more than in the 1960's when plastic was less than 1% of municipal solid waste.
Plastics are classified into two categories: thermosets and thermoplastics. Thermoset plastics solidify permanently under heat. Because of their durability they are used in construction and automotive products. They are also found in ink, coatings, and adhesives. Thermoplastic is malleable when heated and is shaped to be used for things such as jugs, credit cards, and carpet fibers.
The most common use of plastic is in containers and packaging such as drink bottles, lids, and health and beauty bottles. They are also found in durable (furniture and appliances) and nondurable (diapers, disposable cups and utensils, and medical devices).
Why Recycling Plastic Is a Big Deal
American Chemistry Council reports an estimated 1,800 US businesses that reclaim post-consumer plastics. The process of reclaiming begins when plastics are collected from residential recycling or recycling centers. They are then sorted by plastic types and sent to a reclaiming facility. The facility sorts and washes the plastics before grinding them into small flakes. The flakes are dried, melted, and formed into pellets. The pellets are then sent to manufacturing plants to create new plastic materials.
Current reports show that we only reclaim 5% of plastic. In a survey, 9 out of 10 people said they would recycle more if it was easy to do. If only 5% is being reclaimed, what is happening with the remaining 95% of plastics? Some are shipped overseas to be recycled, but the majority ends up in landfills or our water systems as "loose pollution". The Great Pacific Garbage Patch is the largest ocean garbage site at twice the size of Texas located in the North Pacific Gyre off the coast of California. It is 80% plastic and weighs about 3.5 million tons. Plastic waste also kills as many as 1,000,000 sea life a year.
The plastic waste that we discard comes back to us as well through the water. In the Los Angeles area, 10 metric tons of plastic fragments from bags, bottles, straws, etc. are dumped into the Pacific Ocean daily. When plastic bags photodegrade, biotoxins like PCBs are ingested by marine animals and then passed to the humans that eat them.
Post-Consumer Plastics
The plastics industry trade association, SPI, introduced the Resin Identification Coding (RIC) system. This system assigns numbers to different types of plastics depending on their resin content and indicates if a plastic is recyclable or not. Many consumers have the misconception that a resin number in a triangle is the same as the recycling symbol. However, this does not mean that all plastics with a resin number in a triangle can be recycled.
Commonly recycled resins, such as PET and HDPE are growing in the United States. The market application of these particular materials has increased demand for reclaimed plastics. PET plastic can be used in products such as clothing, fiberfill for sleeping bags, toys, stuffed animals, and other textiles. HDPE is used primarily for bottles. The plastics industry has also focused on "source reduction" in their manufacturing of product packaging materials, which is reducing the amount plastic waste that is created.
Fast Facts on Plastic Waste
These facts highlight the global impact that each use of plastic has and its long term effects.
Plastic makes up about 10% of our total waste.
Americans use 2.5 million plastic bottles every hour and only 27% of these bottles are recycled.
Americans throw away 25 billion Styrofoam coffee containers annually.
In the last ten years, more plastic has been produced than the whole of the last century.
The average American uses 50% of the total amount of plastic they use only once before throwing them away.
It takes 500-1,000 years for plastic to degrade.
46% of plastics float and usually drift for years before concentrating in the ocean gyres.
93% of Americans, above the age of 6, tested positive for BPA (a plastic chemical).
Compounds found in plastic have been found to alter hormones and/or pose other health risks to humans.
How Recycled Plastic Makes a Difference
Just as each use of plastic has an impact, every recycled plastic makes a difference in reducing waste, conserving energy, and protecting the environment and the animals and people of the world.
Recycling plastic uses half the energy than if it were burned in an incinerator.
6-10 times the amount of jobs could be created in the businesses of recycling, re-use, and composting compared to jobs in waste incineration and landfills.
Recycling one ton of plastic saves the equivalent of 1,000–2,000 gallons of gasoline.
Ten Achievable Steps for Reducing Plastic Waste
There are very simple and small steps that we can take to make a big difference in reducing our plastic consumption and increasing our recycling and use of re-claimed plastics.
Opt for cloth bags, and reusable bottles made of glass or metal. These can be found at reasonable prices, and you'll save compared to spending on plastic bottles.
Have your own reusable utensils in your car, purse, or bag to use on the go or at potlucks and BBQ's.
Replace sandwich bags and juice cartons with reusable bags and a thermos.
Bring your own travel mug to coffee shops, work, or restaurants.
Go digital with your music and videos instead of buying plastic CDs and DVDs.
Recycle any old CDs or DVDs you no longer want.
When using plastic, choose the most commonly recycled plastics, which are #1 (PET) and #2 (HDPE).
Refrain from using plastic bags and polystyrene foam.
Help out at a beach cleanup. Check for local chapters from groups such as Surfrider Foundation Chapters that often have monthly meet-ups.
Get behind plastic bag bans, polystyrene foam bans and bottle recycling bills at voting time.