Rear & Front Load Dumpsters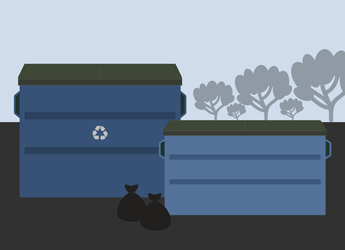 Rear and front load dumpsters are often used for a multitude of residential or commercial purposes. These dumpsters are helpful when there is too much waste to be placed in a trash can for curbside pickup yet not enough to need a larger roll-off dumpster; they are most often used by small businesses and serviced on a daily, weekly or monthly basis. Neither dumpster is meant to be used for a one time occasion, but instead is intended for regular use. A private dumpster service can offer residents – whose public curbside collection service has been letting them down – better peace of mind.
Front Load vs. Rear Load: Advantages and Differences
Front load dumpsters have a top that slants upwards so that trash can be dropped in over the lid at the lowest point, and the lid's hinge is at the highest. Rear load dumpsters are the exact opposite and have a slanted back, making them ideal for fitting them into narrow spaces.
One of the chief differences between the two dumpsters is how they are loaded into the garbage truck. A front-loading dumpster has slots on either side which are designed to fit the prongs of a garbage truck. The truck inserts these prongs then lifts the dumpster over the top of the truck and flips the dumpster over, emptying the waste into the truck's hopper, or storage compartment. Drivers must get out of the truck to empty a rear load dumpster, which can be a huge advantage for the dumpster renter as it ensures that no waste is left scattered around the dumpster area.
Another possible advantage of the front load dumpster over its opposite number is its compact height and length. Front load dumpsters are generally shorter in height and length, which allows for easier loading of disposables into the container. To put waste in the rear load dumpster, the owner needs only to flip the lid and dump the trash. Rear load dumpsters are much taller and longer – anywhere up to forty and sixty percent respectively. This makes it more difficult to keep their lid open long enough for the trash to be dropped inside. It also means that they take up more space on the property they are placed.
Nonetheless, if you would prefer to have a dumpster that can hold more trash then the rear-loading container could be the smarter option. Due to their greater length and height these dumpsters are ideal for use at medium- to large-sized commercial businesses and institutions. Another potential benefit of the rear-loading dumpster is that it is made using steel or corrugated plastic, materials that reduce the chance of an accidental fire, contamination, and pests (both rodent and insect).
Most front and rear load dumpsters also have wheels, making them one of the more maneuverable types of dumpster. Also known as roll-away dumpsters, they can be pushed into corners for storage and wheeled out by the dumpster service on collection day. Rear load dumpsters are very popular in alleys and in places where many businesses are situated close together. They come in various sizes, namely two, four, six, eight, and ten yards, in which the yardage refers to the cubic volume of the dumpster.
Perhaps the most important aspect of the front-loading dumpster is that it can be divided into recyclable and non-recyclable waste. Instead of renting or buying an additional dumpster, customers need only specify that they need a dumpster suitable for storing both recyclable and non-recyclable materials and they will receive a container with separate compartments for holding each type of waste.
Garbage Disposal Guidelines
Both of these dumpsters follow similar rules concerning the types of waste they can and cannot contain. Acceptable wastes are food, general trash, and materials that are nontoxic. The trash should preferably be in tied trash bags, not loose or overflowing the dumpster. If there is excess trash that cannot fit inside the container, it is not an appropriate solution to leave garbage bags next to or around the dumpsters for the garbage truck; this encourages rampant pests, sanitary issues, and odors.
Among the non-acceptable wastes are appliances, pesticides, liquid waste, paint, and other hazardous materials. These dumpsters especially are not built to handle waste marked "warning", "hazardous", "flammable", "poisonous", "corrosive", or other such terms. Materials with these labels need special treatment and it is best to consult your local waste management company to discuss their disposal if no instructions are provided on their packaging.
Years ago most products were biodegradable and therefore our waste was as well. There was less of a need (if any) for recycling and special treatment of waste as all materials were routinely mixed and buried in the ground to wait for decomposition. Unfortunately, our modern materials mixed with our increased consumption of mass-produced goods have left us with an abundance of waste that cannot simply be buried in the ground and left for the planet to deal with. Now, it is important that waste is specifically sorted, treated, and recycled as is appropriate to each material and in a way that makes the environment we live in more sustainable.
Which is Better, Open Top or Lid?
Front and rear load dumpsters come with the option of an open top container. If you are thinking of renting open top dumpsters of this kind they are exactly what they sound like – dumpsters with no lid. This is beneficial for recycling, quick cleaning jobs, and municipal solid waste. It is an option that can provide the most "bang for your buck" and you can get the smallest container for the cheapest price.
If the dumpster comes with a lid, it is a requirement that the garbage does not go past the shutting point. If the trash is overflowing or protruding out of the container to the extent that it is pushing the lid away from its closed position, a surcharge could be enforced. Still, dumpsters with a lid usually look cleaner and contain odor and waste better than dumpsters without one.
It is important to check with your local dumpster company regarding permit requirements, a detailed list of acceptable waste materials, and other terms related to tonnage limits, and the placement of the dumpster.
Securing Your Dumpster
By keeping just a few things in mind dumpster renters can ensure that their waste disposal activities are taking into consideration the wellbeing of their community. For example, to avoid rodents and other pests clustering, renters can ensure that their dumpsters have tightly fitted lids and doors and that the openings are closed at all times when the dumpster is not in use. Placing the dumpster on concrete or asphalt instead of dirt is also a great way to prevent rodents from burrowing underneath.
Whether you are renting a front load dumpster or a rear load dumpster, the following steps can help to keep the waste in and attract fewer rodents to your container:
Choose the right type and size dumpster for your needs
Ensure the dumpster is cleaned a minimum of once a week after collection
Avoid throwing liquid waste into the dumpster
Keep a lock and chain on the lid to discourage unauthorized use and rummaging.
Saving Your Trash
Recycling is absolutely vital for a community's maintenance which is why it is important for local residents and businesses to participate in the process. As of now, the most common items recycled are aluminum, glass, batteries, plastic, and paper. Responsible waste management companies collect mixed solid waste and then sort these materials into recyclable and non-recyclable items. Recyclable items are processed in a way that enables them to be reused in another similar form, while non-recyclable trash either ends up at landfills or incinerated.
The amount of non-recyclable waste being generated is on the rise due to increasing populations, consumption, and products that are not biodegradable. These issues combined with the lack of awareness of their importance are leading the planet down a dangerous path.
The benefits to recycling are immeasurable – it reduces the amount of pollution, preserves forests and other natural vegetation, minimizes energy consumption, and saves money. The disadvantages of recycling pale in comparison to its advantages, which is why it is of the utmost importance that people begin doing their part to recycle their own waste and spread awareness throughout their communities.
In 2011, less than thirty-five percent of households and ten percent of businesses in the United States chose to recycle. According to the EPA, if recycling levels can reach seventy-five percent, it will reach the same environmental benefit as taking fifty million cars off the road each year and will generate 1.5 million jobs. The statistics on what is thrown away instead of recycled in the US alone is quite disturbing: 2.5 million plastic bottles each hour, three thousand pounds of food each second (almost half of the food in the country), twenty-eight billion glass bottles and jars each year, and enough paper to build a twelve foot high wall from Seattle to New York each year. In 2009, enough trash was generated in the US to circle the earth twenty-four times. The numbers are astounding and will only continue to get worse if people don't start pitching in and recycling.
As mentioned earlier, you can easily prepare your waste materials for recycling using front load dumpsters or even rear load dumpsters. If you find the practice of recycling your own waste too difficult, there are other ways you could pitch in. Consider buying only recycled materials, ride a bike or use public transportation, buy local products, buy products with the smallest amount of packaging possible, don't let water from a sink or shower run, donate to Goodwill instead of throwing away old items – these are only a few on a list of hundreds of ways to make a difference to the planet. A little effort goes a long way.