Dumpster Rental in Rhode Island Counties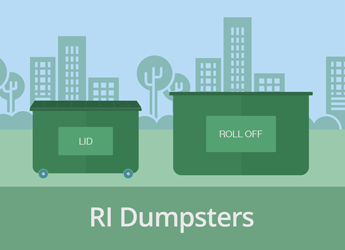 Dumpster rentals in Rhode Island vary by company. However, renting a dumpster from a responsible RI service will keep costs low and guarantee the best possible experience.
There are five useful steps you can take right now to make certain that the dumpster service you get is an exceptional one.
#1: Check for dumpster permit requirements in your area
Particularly if you plan on renting a roll-off dumpster, the first step is to check with your neighborhood association for any policies they may have on business or residential dumpster rentals, whichever is relevant to you. Dumpsters are not allowed in some locations, but can nonetheless be placed in others once you have received a permit. This allows you to have the dumpster for an allotted time for a fee. Permits in Rhode Island can be obtained from the local building permit office or the local parking enforcement office.
#2: Know your obligations
In general, dumpsters cannot disrupt the flow of traffic and must be a certain distance from residential buildings. They must also be kept relatively clean and have the ability to be closed without trash spilling over the edge.
#3: Schedule your rental on time
Plan the delivery of your dumpster no later than two days before you think you will need it – mistakes are made and things happen, so you want to err on the side of caution to ensure you do not have a surplus of waste and no dumpster to place it in.
#4: Plan for the right container
When it comes to using any container for waste removal, size matters. So you want to be sure that the dumpster you rent is appropriately sized for the job. If the dumpster is too small for your needs, waste will overflow and become a health hazard; in addition, you will be fined for the excess waste. If the dumpster is too large, you will pay more money than necessary.
#5: Rent from the very best!
Be very prudent in regards to the RI company you decide to rent a dumpster from. It is easy to book a dumpster rental in Rhode Island, but it is much harder to deal with the consequences of using an irresponsible service. Read reviews, get references from locals in your community, and generally make sure you are doing business with a company that cares. At the very least, the company you consider should have knowledgeable professionals for the task who are willing to offer guidance if necessary and who can remove your trash the right way.
Recent Dumpster Rental Quotes in Rhode Island
Here are the current rates for dumpster rentals in RI. The quotes were received from various independent customers and cover each specific roll-off dumpster size available for rent countywide.
Dimensions (L x W x H) :  approx.  12′ x 8′ x 4′
Suitable for:
Seasonal cleanouts, small bathroom or kitchen renovations, garage cleanouts
---
Quote A
Rental Duration:  14 days
Weight Limit:  2,000 lbs
Price:  $259*
---
Quote B
Rental Duration:  7 days
Weight Limit:  2,000 lbs
Price:  $250
Dimensions (L x W x H) :  approx.  16′ x 8′ x 4.5′
Suitable for:
Small kitchen or bathroom renovations, seasonal cleanouts, yard debris
---
Quote A
Rental Duration:  14 days
Weight Limit:  3,000 lbs
Price:  $299*
---
Quote B
Rental Duration:  7 days
Weight Limit:  4,000 lbs
Price:  $299
Dimensions (L x W x H) :  approx.  22′ x 8′ x 4.5′
Suitable for:
Large scale basement cleanouts, office clear outs, construction and demolition debris for multiple room remodels
---
Quote A
Rental Duration:  14 days
Weight Limit:  5,000 lbs
Price:  $369*
---
Quote B
Rental Duration:  7 days
Weight Limit:  5,000 lbs
Price:  $350
Dimensions (L x W x H) :  approx.  22′ x 8′ x 6′
Suitable for:
Real estate cleanouts, large scale construction and demolition debris
---
Quote A
Rental Duration:  14 days
Weight Limit:  7,000 lbs
Price:  $429*
---
Quote B
Rental Duration:  7 days
Weight Limit:  8,000 lbs
Price:  $399
Dimensions (L x W x H) :  approx.  22′ x 8′ x 8′
Suitable for:
Large residential projects, large industrial and commercial cleanups
---
Quote A
Rental Duration:  7 days
Weight Limit:  10,000 lbs
Price:  $409
* Price includes rental period, delivery fee, pickup fee, and applicable taxes
If you would like to gauge rates for dumpsters smaller than 10 yards, then your best option is to speak with the haulers you're considering directly. The reason for this is because most companies that offer smaller dumpsters for rent usually have different arrangements and requirements. For example, some will only rent to businesses who are looking for long-term waste management solutions while some will rent to both commercial and residential customers for independently specific rates.
Responsible Dumpster Companies Get the Job Done Right!
Anyone looking to rent a dumpster in Rhode Island should be aware of just how important it is to only use dumpster services that are accountable and behave responsibly. One of the first things to do when considering a rental is to actually speak to a company that can provide you with a container – don't trust yourself to online shop for a dumpster.
While it may be more convenient to simply rent online, the professionals at the rental company will ensure that you have the right dumpster for the right purposes. It is easy to underestimate or overestimate your needs if you are not familiar with dumpsters. Communicating directly with the experts can help with your estimates (and likely save you money!).
In addition to having the help of experienced professionals when you find a reliable company, you will know what dumpster you are getting, when you are getting it, and for what price. Dumpster rentals can easily become an expensive endeavor when you are unaware of hidden fees, extra taxes, and extra tonnage expenses.
The dumpsters themselves will also be in good condition, able to contain the waste they were built to hold; no reputable company will rent out substandard dumpsters. A good dumpster will be big enough to contain the waste that is thrown in it, steady enough that it will not topple over with the addition of trash, and can easily be moved from one place to another.
The Dangers of Renting the Wrong Dumpster
Dumpsters not fit for the task, on the other hand, pose a danger to the health of the community. For example, a container that leaks trash or that's susceptible to being ransacked by people or animals creates a risk of contaminating the areas around it. In addition to the health risks a wrong dumpster poses, it can also present a physical risk. For instance, if the dumpster is not secure in its location or has a wonky lid that falls off easily, somebody could get hurt. Dumpsters are often made from steel and if a dumpster were to roll down a hill into something or topple over onto a person, the result would likely be someone (or their property) being seriously damaged.
Rhode Island Dumping Regulations
The Rhode Island Resource Recovery Corporation (RIRRC) has implemented a system in which residents no longer need to separate their waste from their recycling. Each week, at least one recycling cart – either blue or green – must be placed on the curb along with the grey trash cart for collection.
Residential areas where a recycling bin is not on the curb will not have the trash collected. Carts must be brought in at the end of collection day and brought to the curb the following week for the next collection day. For disposing of bulk waste, recycling, leaf and yard waste, residents are encouraged to contact their local waste management facilities as rules and regulations vary in each city.
What to Do With Hazardous Trash
Rhode Island strictly prohibits the dumping of hazardous waste in regular trash. The costs of a Rhode Island dumpster rental (both financial and environmental) are significant if hazardous waste materials are not properly treated. Instead of trashing toxic waste in a dumpster, residents, businesses and dumpster renters alike are obliged to bring their hazardous waste to the Eco-Depot, a free drop off point at the RIRRC's facility at the Central Landfill in Johnston.
The facility is located at the following address:
Eco-Depot
65 Shun Pike
Johnston
RI 02919
Call 401-942-1430 to schedule your drop-off at this facility.
Please note: you must book an appointment before you can drop off hazardous waste at the Eco-Depot.
The normal business hours of the RIRRC are Monday through Friday: 6:00am-3:45pm and Saturday 6:00am-12:00pm.
Hazardous wastes accepted by the Eco-Depot include:
batteries, gasoline, bug sprays, houseplant insecticides, motor oil, oil-based paints, fluorescent light bulbs, propane tanks, turpentine, lawn chemicals, antifreeze, paint thinners, charcoal lighter fluid, driveway sealer, metal polishes, disinfectant, concrete cleaner, flea dips, mothballs, pool chemicals, arts and crafts chemicals, nail polish and nail polish remover, oven cleaner, pest and rat poisons, rug cleaners, shoe polish, drain clog dissolvers, and windshield wiper fluids.
The depot accepts up to five gallons of residential waste oil and five gallons of residential anti-freeze during normal weekday hours.
General Waste Management
The Central Landfill of the RIRRC manages approximately 2,500 tons of residential and commercial waste each day. The landfill is 230 acres and is approximately two hundred feet from base to top. The non-hazardous waste is spread in layers, compacted, and covered each day with organic and inorganic material, making it a sanitary landfill. It only accepts waste generated in Rhode Island and provides disposal services to ninety-seven percent of the state's residents.
Recyclables
The Materials Recycling Facility (MRF) of Rhode Island is one of the largest in New England at 76,550 square feet. It staffs sixty-one employees and handles approximately eight hundred tons of recycling each day. The recyclables processed include plastic containers smaller than two gallons, glass containers, paper, cardboard, metal cans and foils, and cartons.
Materials that do not get recycled here are plastic bags, refrigerated and frozen food cartons, candy wrappers, scrap metal, wires, chains, cables, hangers, plastic containers larger than two gallons, Styrofoam, non-container plastics, light bulbs, mirrors and other broken glass, clothing, hot beverage cups, needles, ceramics, and hazardous waste.
To make the recycling process run smoother and more efficiently for this facility and your RI dumpster rental service, make sure your recyclables are empty and as clean as possible. Also ensure that all cardboard is flattened.
Alternatives to Recycling
While recycling is an important and helpful practice, the most important question to ask is: does somebody want this? Recycling is only helpful if somebody else is willing to purchase something made out of the recycled material. If nobody wants the new product, then energy is wasted producing it and more waste is created. There are alternate methods to keeping the planet clean.
For example, consider donating your unwanted items to Goodwill or other secondhand stores, posting on Craigslist or eBay, or joining the Freecycle network. Freecycle is a nonprofit organization that matches people that need products with people that want to dispose of those very same items. The RIRRC runs a similar Materials Exchange program for businesses, residential materials, and medical equipment. Excess building materials can be donated to Habitat for Humanity.
The most important practice in keeping your personal waste levels low is to become a more efficient buyer: only buy what you need. Purchased unused products and unessential items bought in bulk can quickly turn into waste before a household or business realizes.
Preserving Rhode Island
To avoid rodents and other pest infesting your area, renters can get dumpsters with tightly fitted lids and doors and make sure the openings are closed at all times; placing the dumpster on concrete or asphalt instead of dirt is a great way to prevent rodents from burrowing underneath. To keep the waste in and attract fewer rodents, customers must choose the right type and size dumpster for their needs, clean the dumpster after collection, try to avoid throwing liquid waste into the dumpster, and keep a lock and chain on the lid to discourage unauthorized use. Cat litter can be used to clean grease and other spills around the area.
Of course, you can always rely on the skills of a reliable dumpster rental Rhode Island company to take care of these tasks for you. When you have the contact details of a responsible dumpster company in RI, just be sure to mention these details upfront by calling the number directly.