Roll-off Dumpsters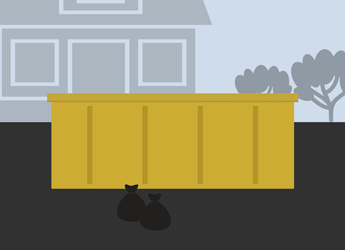 In the world of waste management, roll-off dumpsters are the containers called upon to hold construction, renovation, and demolition debris. They can be rented for these special projects or be kept on a more permanent basis to hold debris that is not suitable for a solid waste container.
A roll-off dumpster is a large, rectangular container that can be open or closed top. While the open top dumpsters are used for the aforementioned projects, closed top containers are more often meant to be used with trash compactors. By renting a roll-off container, you are able to dispose of large amounts of debris without having to deal with dumping regulations directly. A rental company delivers the dumpster, picks it up after an agreed number of days, and disposes of the waste.
Roll-off Sizes
The size of the dumpster itself is largely determined by the truck that loads and unloads it. Also, sizes are labeled by the amount of waste the dumpster can hold. In the United States, roll-offs are typically ten, fifteen, twenty, thirty, and forty-yards in size.
10 Yard
Ten-yard dumpsters are one of the smallest sizes of roll-off containers available for rent or purchase and are perfect for smaller trash volumes and spaces. They are also ideal for use with cleaning up a small area such as a basement or bedroom.
15 Yard
Fifteen-yard dumpsters are great for when you need a bit more trash storage space to complete the job; for example, a small backyard cleanup or seasonal home cleanout.
20 Yard, 30 Yard, and 40 Yard
Twenty-yard roll-offs are better suited for remodeling scenarios, while thirty-yard dumpsters are useful for real estate cleanouts and foreclosures. In addition, a forty-yard roll-off is best for larger construction and demolition projects.
Waste Volume
Generally speaking, it should be easy to find a dumpster to fit your waste needs. It is important to remember, however, that while dumpsters are rented out according to volume, there may be weight limitations to consider. Containers weighing more than the allowed weight will often incur overage charges, so it may be necessary to rent a larger dumpster to fill it with heavier material.
A container should not be filled past its rim. It is often the customer's responsibility to dispose of any extra waste that cannot be placed into the dumpster, otherwise they will have to pay to extend the length of the rental. A dumpster truck cannot leave the lot with an overflowing dumpster as the waste would likely fall out of the dumpster when the truck drives away. To keep your roll-off dumpster costs in check, be sure to familiarize yourself with the local guidelines and keep your waste to dumpster ratio at a minimum.
How a Roll-off Service Works
When renting a roll-off container, the cost can vary wildly depending on your location, the size and weight of the dumpster, as well as any other taxes or possible charges. It is also possible that in addition to renting a dumpster a customer may need to request and receive a permit to keep the dumpster in a particular location (permit requirements vary by location).
In addition to needing the space for the roll-off itself, a customer will also need to account for the space necessary for a truck to maneuver it into position as well as space on each side of the dumpster for a person to throw waste into it – typically three feet of clear space. Usually the truck will need about sixty feet of space to be able to back the dumpster into place as well as twenty-five feet of height clearance. The customer should make sure the dumpster is free of any low-hanging trees, electrical wires, or other possible obstacles. The more open a space is, the easier it will be to place and remove a dumpster from a location without damaging or disturbing the area.
Roll-off containers can also damage the surface they are placed on. To deliver the dumpster, a truck backs into place and lifts the bed as the container slides off and is lowered by a cable. Most roll-off dumpsters have metal on the wheels that can harm the ground when they are unloaded from the truck. A customer can minimize this damage by placing plywood on the surface. A dumpster can be placed on any hard surface except for dirt as the dumpster can sink into the mud and get stuck when rain mixes with the dirt.
Dumpster Debris
In most states, municipal solid waste (MSW), construction and demolition debris, and yard waste are all permitted to be trashed in a roll-off dumpster without needing any special arrangements. In the grand scheme of things, these materials are harmless to the environment. Waste considered unacceptable for roll-off containers include food debris, compost, hazardous materials, toxic substances, pollutants, contaminants, infectious waste, medical wastes, and radioactive wastes.
In addition, unusual wastes, or those needing special handling, disposal procedures, documentation or authorization, cannot be disposed of using a roll-off. These banned materials include batteries, paint, gasoline, asbestos, propane tanks, and more. Large appliances are usually not allowed in these types of dumpsters though some places will allow it for an extra charge.
It is important for the customer to call their local dumpster company if they are unsure about what can and cannot be placed in the container they are renting. If hazardous wastes were mixed into a disposal facility, it could lead to a medical crisis or worse. Separate trucks and services exist to specifically handle special forms of waste.
Recycling
To minimize the impact of waste on our environment, some dumpster rental companies offer a sorting system in which customers can commingle their recycling and waste materials into the dumpster. Once the container reaches the waste treatment facility the debris is sorted and searched for recyclable material. Recyclable materials include wood, metal, concrete, cardboard, vinyl and drywall. These items are sorted out while the remainder is sent to a landfill or other disposal facility. Some rental companies may also offer roll-off dumpsters specifically for compost waste.
The average person generates approximately four pounds of waste each day and approximately 1.5 tons each year. In the United States alone, two hundred million tons of waste is produced each year. Though up to seventy-five percent of our waste is recyclable, we usually only end up recycling about thirty percent. The other forty-five is sent to landfills, essentially wasting recycling potential. Food waste is just as staggering, with 21.5 million tons of it being generated each year. If it was composted instead, it would reduce the same amount of greenhouse gas as taking two million cars off the road.
Aluminum cans are a huge resource. Recycling one can save ninety-five percent of the energy it takes to make the same can from virgin materials. One recycled aluminum can also generates enough energy to power a computer for three hours and one hundred aluminum cans produce enough energy to light a room for an entire week. In 2010, paper recycling had increased over eighty-nine percent since 1990.
Recycling takes very little extra effort, but unfortunately many are not using the methods available to them. Over eighty-seven percent of Americans have access to curbside or drop-off paper recycling programs. However, in 2009 close to nine million tons of glass were carelessly thrown away, some of which would likely have ventured inside a roll-off container. To put that figure in perspective, the energy saved from recycling one glass bottle can operate a 100-watt light bulb for four hours. It would take approximately one million years for that one glass bottle to biodegrade if put in a landfill instead of a recycling facility. Recycling ten tons of glass saves as much greenhouse gas emissions as preventing the use of over eight barrels of crude oil.
Like almost everything around, items that normally find their way inside a roll-off dumpster can be recycled, which is a very good reason why more of them should be. Other not so insignificant reasons include saving the earth, conserving energy, helping mitigate global warming and pollution, saving money, and reducing the amount of waste put in limited landfill space. In comparison to its benefits, there are literally no downfalls to recycling!
A huge amount of energy is expended making new products when those products could simply be recycled from older ones. Producing new plastic from recycled plastic uses only sixty-six percent of the energy it takes to produce entirely new plastic and producing aluminum from recycled aluminum only takes five percent of the energy spent producing it from virgin materials. Recycling steel can save seventy-five percent of the energy and glass can save close to seventy percent.
Regardless of the material in question, it is always cheaper and takes less energy to create new products from raw materials. In addition, if the old material is not reused, it sits in landfills and takes up valuable space.
On that note, these are the most essential items you should be recycling (if you aren't already):
Computers
Aluminum
Mixed paper
Newspapers
PET (polyethylene terephthalate) plastic bottles (used for soda and water bottles)
HDPE (high density polyethylene) plastic bottles (used for milk jugs, shampoo bottles, bleach, and similar products)
Glass containers
Magazines
Corrugated cardboard
Steel cans